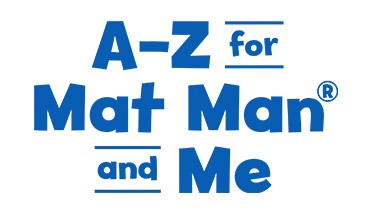 DIFFERENTIATED INSTRUCTION
Support all learners on their paths toward literacy. Effective programs give teachers options that meet the unique needs of each student.

Learn More
Discover
A-Z FOR MAT MAN AND ME
It's common to find children progressing at varied developmental ranges in any classroom. A–Z for Mat Man and Me supports two instructional paths, allowing you to adapt instruction to meet all student needs.
Emerging Readers (Pre-K-K)
Students learn to recognize select letters, distinguish between capital and lowercase letter forms, and practice letter formation using manipulatives.
Developing Readers (Grade 1)
Students learn to recognize ALL letters, recognize high-frequency words, and explore deeper letter concepts in the context of stories.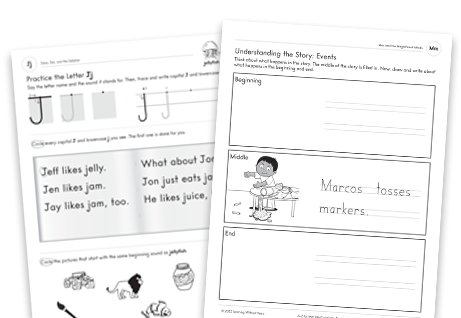 Student Practice Book Sample (Emerging Readers) Kindergarten and older
Samples
Get a peek into the practice pages students will use to refine their new skills.
Each letter lesson can be differentiated by pathway (Emerging and Developing) and by lesson type.

Letter Learning
Lessons help readers identify letters, sounds, and words using pictures that allow them to explore the world around them.
Explicitly teaches each letter's name, sound, and form

Develops grapheme-phoneme correspondences

Incorporates letter formation from Handwriting Without Tears®

Provides the foundation for hearing sounds in words and recognizing words to decode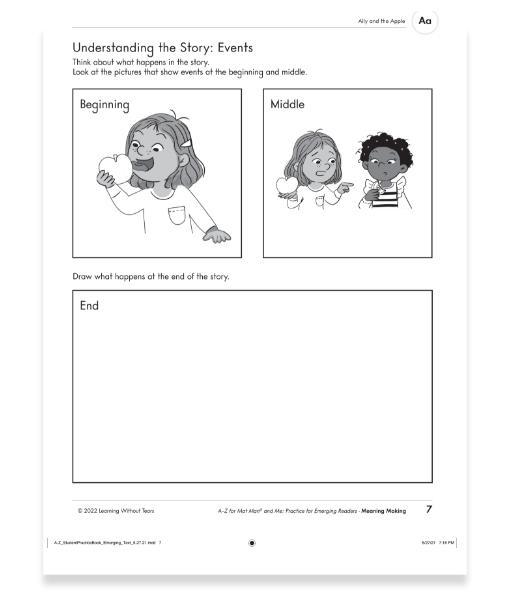 Meaning Making
Lessons target specific story elements, helping students practice recall of the text while strengthening connections between letters, words, and ideas.
Strengthens children's attention to story element

Develops their oral language as they discuss the stories

Centers on a social-emotional habit that connects to the plot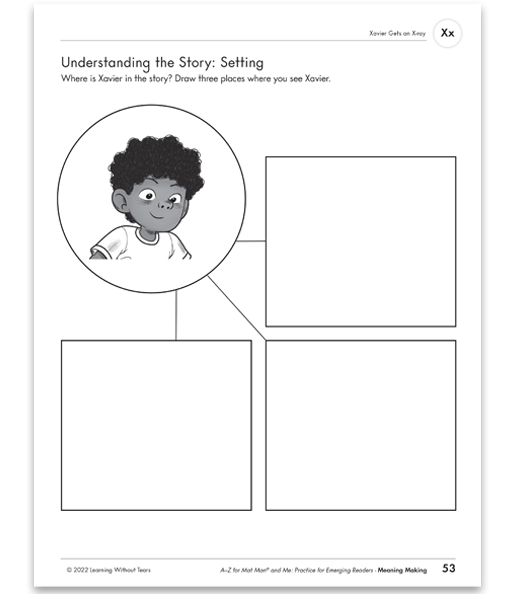 Student Practice
Practice pages help refine and develop the literacy skills students are learning. Through independent reading and writing practice that aligns with the instruction in the Student Letter Books, they'll learn to identify letters and sounds while exploring the meaning behind the stories they've read.
The Emerging and Developing Student Practice Books are appropriate for kindergarten and above.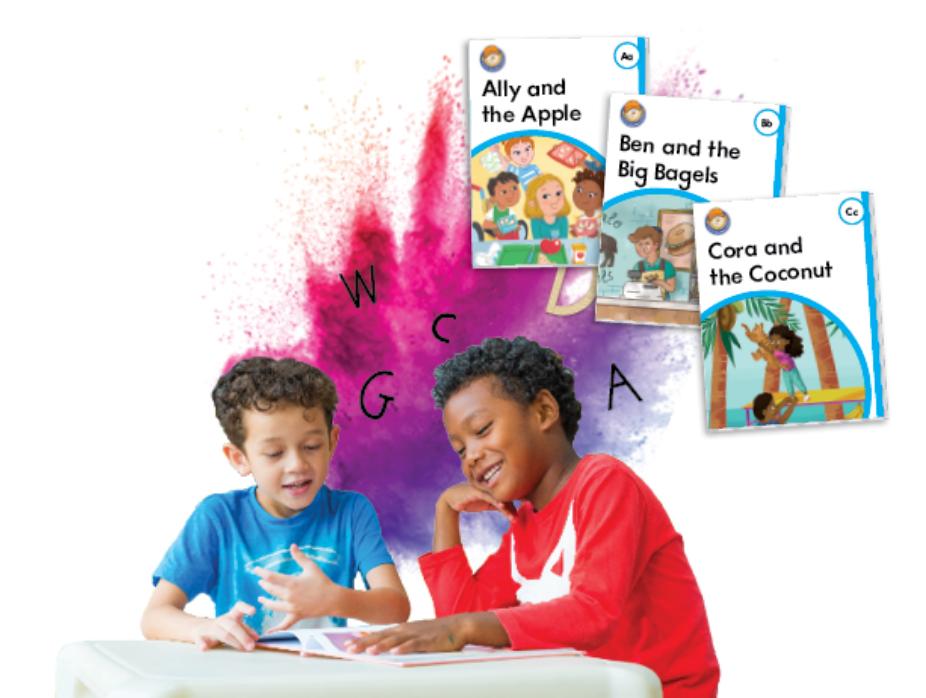 Small Group Learning
The Student Letter Books can be part of a lesson for center/small groups or planned out to give students independent practice. Whether they are working in pairs, groups, or on their own, students stay actively engaged as they progress through the classroom literacy block.
ELL Scaffolds that Break Language Blockers
English language learners (ELLs) build confidence in speaking, reading, and writing in English by tackling the biggest blockers to language acquisition. ELL Scaffolds help students avoid confusion in early reading and support a seamless transfer of primary language skills to English.
Popular Products & Courses
TESTIMONIALS
"The intertwined connections to real world, real life and all the learning modalities facilitate learner success."
Vanessa Brown, B.A., M.Ed.
Retired Assistant Principal and ELA Coordinator

"With the implementation of the teacher's guide, activity books and manipulatives, Pre-K teachers have the tools they need to successfully prepare young children for kindergarten."
Schronda McKnight-Burns M. Ed.
Assistant Director of Early Childhood Education

"The active teaching really brings the workbook to life by adding in different interactive learning strategies and activities on each page."
Lanor Payne, Ph.D
Director of Early Childhood

"Our students have used Keyboarding Without Tears for years. This program goes beyond nurturing students' typing skills. It gives them the confidence with technology they need to truly succeed today."
Mary Toomey
Assistant Superintendent