Learning Without Tears helps students become confident learners. For more than 40 years, our programs have taught students how to graduate from the mechanics of reading and writing to embrace literacy and discover new worlds of learning.
We believe that learning should be simple, effective, and fun—no matter where students are. And now more than ever, it's critical that educators have the technology they need to support their classrooms. That's why our programs integrate print and digital instruction, delivering research-based materials that helped bridge the divide during the disrupted learning years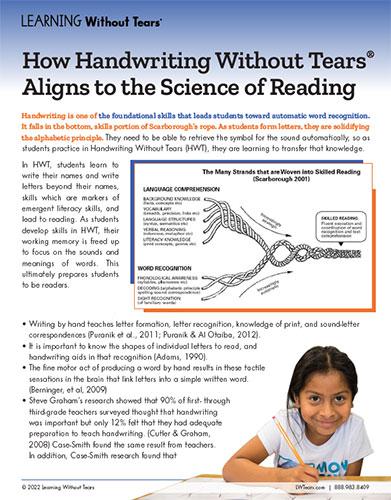 How Handwriting Without Tears® Aligns to the Science of Reading
Handwriting is one of the foundational skills that leads students toward automatic word recognition.
It falls in the bottom, skills portion of Scarborough's rope. As students form letters, they are solidifying the alphabetic principle. They need to be able to retrieve the symbol for the sound automatically, so as students practice in Handwriting Without Tears (HWT), they are learning to transfer that knowledge.
Popular Products & Courses
TESTIMONIALS
"The intertwined connections to real world, real life and all the learning modalities facilitate learner success."
Vanessa Brown, B.A., M.Ed.
Retired Assistant Principal and ELA Coordinator


"With the implementation of the teacher's guide, activity books and manipulatives, Pre-K teachers have the tools they need to successfully prepare young children for kindergarten."
Schronda McKnight-Burns M. Ed.
Assistant Director of Early Childhood Education


"The active teaching really brings the workbook to life by adding in different interactive learning strategies and activities on each page."
Lanor Payne, Ph.D
Director of Early Childhood


"Our students have used Keyboarding Without Tears for years. This program goes beyond nurturing students' typing skills. It gives them the confidence with technology they need to truly succeed today."
Mary Toomey
Assistant Superintendent