How to Improve Handwriting for Students with Autism

Learning Without Tears
December 23, 2020
0
As of September of 2020, 1 in 54 students is likely to be diagnosed with autism spectrum disorder (ASD). While autism's symptoms vary from person to person and have a wide range of severity, it is prevalent within all groups of people and backgrounds. One of the common ways autism is most clearly displayed is within communication skills, especially during their developmental years in school. During early childhood education, it's very typical to see communication difficulties displayed within the student's handwriting and ability to write out the main ideas they've learned. Improving handwriting within students with autism is key for helping them build confidence within their studies and properly communicate the concepts they learn along the way.
How Does Autism Affect Handwriting?
Autism can affect handwriting in numerous ways that can be identified fairly simply. Autism causes a lack of fine motor skills which commonly translates into legibility difficulties and impacts the way students are able to organize their thoughts within their work. Autism is often accompanied by additional learning disabilities such as dyslexia and dysgraphia which affect the student's ability to process letters and produce written language successfully. Unfortunately, students with autism often know the information fairly well but struggle to translate this knowledge onto the actual page. In order to properly set your students up for success, autism and handwriting difficulties need to be addressed earlier rather than later in life. It's crucial to coach students with autism throughout their handwriting process to avoid poor handwriting causing confidence issues and learning delays down the line.
Signs of Autism Impacting Handwriting
It's important to look out for the ways these difficulties physically manifest within autistic handwriting. Catching on to these signs during the younger years can be helpful in finding solutions to help assist the student in handwriting success earlier. Some easier to notice handwriting signs that indicate that the student may be struggling more than usual include:
Frantic, hurried, sloppy handwriting
Difficulty drafting long-form composition
Inability or unwillingness toward writing for an audience 
Hyper-focus on small details, lacking in a direction toward the big picture
Large lettering and hectic line spacing, caused by complications within fine motor control
Complications writing slowly or quickly enough
Handwriting Strategies for Students with Autism
When it comes to helping students with autism, handwriting strategies and a mindful approach are key for allowing the student to adequately implement handwriting lessons. Consider a few of these strategies when helping a student with handwriting difficulties.
Hand Exercise and Grip Training
So much of our relationship to our handwriting is the physical manner we handle our writing utensils. Writing is a multisensory experience, and this process can often become overwhelming for students with autism. Training the student on proper hand grip and coaching them in hand exercises is a great way to encourage handwriting progress.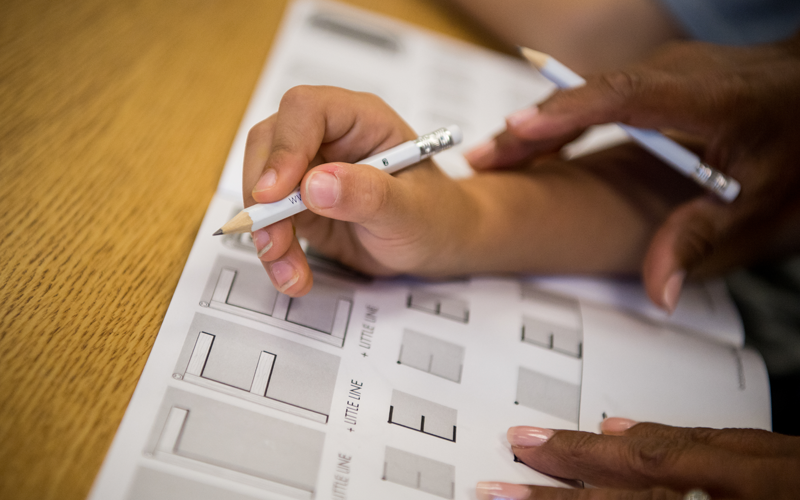 Use Visual Organization Tools
Properly assisting the student with autism to demonstrate and map out what they wish to communicate is key for helping handwriting and encouraging educational growth. More often than not, students with autism don't struggle understanding educational materials and lessons, they struggle in creating and communicating that knowledge. Visual organization tools allow this communication process to work simply and become more accessible for the student.
Be Patient
Handwriting complications often extend far into adulthood for those with autism, so being patient with students is crucial for understanding their circumstances. Deliberate and slow teaching solutions have proven to assist the coaching process for students with autism, so remember to not rush the process along and take your time with each main idea and step.
Next Strategy
Every student learns differently, so trying numerous methods to find the proper channel for progress is sometimes necessary. If you're finding a lack of momentum, consider switching up the strategy to help approach handwriting from all angles possible. Circle back to certain handwriting basics every now and again for review, but keep the curriculum changing to avoid fatigue and support handwriting progress.
Learning Without Tears Can Help Students with Autism!
Learning Without Tears sets up students with autism for success with easy-to-use writing tools and industry-leading knowledge to help students in every step of their educational journey. Some of our unique services that set us ahead of the rest that help with handwriting and more include:
Remote learning materials and insight, with occupational therapy resources and programs that can help teach handwriting at home. 
Fun and engaging teaching tools that support creative learning outlets for students with autism's unique handwriting challenges.
Digital resources and videos for handwriting, keyboarding, and Pre-K programs to help support educational growth from home. 
Online tools for students and instructors alike, to assist with the constantly-changing educational guidelines and curriculum. 
Choose Learning Without Tears for educational resources you can trust will make a difference in your student's lives. We provide educational tools for every stage of early childhood development, with unique products for students with autism or learning disabilities. With the expansive catalog of industry-trusted programs and educational resources, you're bound to find the solution to any educational roadblock if you're relying on Learning Without Tears. 

By Learning Without Tears
At Learning Without Tears it's our mission to make learning and teaching easy and fun. From time to time you'll see us use our "Learning Without Tears" author profile to share company updates or invite outside voices to share their stories on our blog.