21 Ways to Celebrate National Handwriting Day

Learning Without Tears
January 19, 2021
0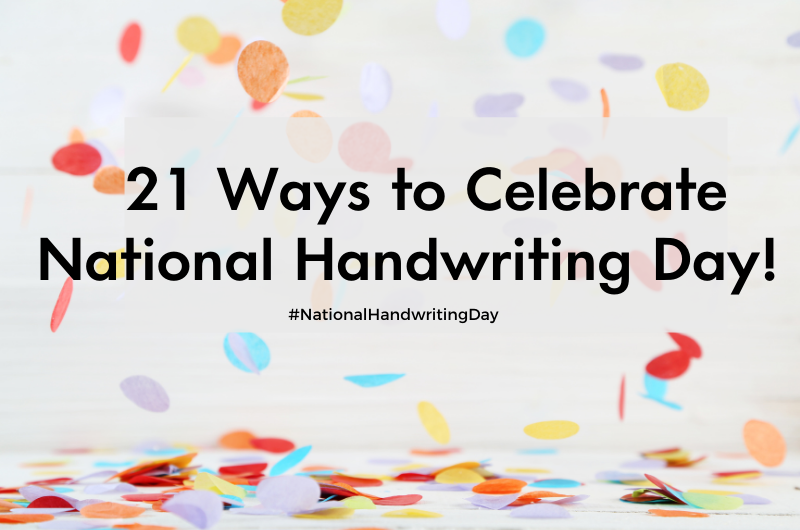 Though we often use our thumbs for most writing these days, handwriting will never stop being an essential life skill. And there's no better time to celebrate this skill than National Handwriting Day!
Children who master handwriting early will blossom into better, more creative writers. Forming letters by hand engages more networks in the brain. And children who learn letter formations can learn to recognize letters more quickly, securing their footing along the path to literacy.
To help your students participate in National Handwriting Day 2021, we've come up with 21 ways to use our handwriting program to demonstrate the expressive power of handwriting in your class, home, or pod.
21 Ways to Use Handwriting on National Handwriting Day
Inspired? Take the Next Step and Save!
Whew, that should give you and your students enough activities to last through the celebration and then some! Now that you've reached the finish line, why not visit our online shop? For a limited time you can receive FREE shipping on orders up to $500 with code FREESHIP2021.*
 
Visit our store at: https://shopping.lwtears.com/
 
*This offer is valid from 1/18/2021-1/31/2021, for standard shipping to a single address in the continental US. This offer cannot be combined with other offers and is not valid on previous orders. This offer applies to standard shipping to one location in the continental U.S.

By Learning Without Tears
At Learning Without Tears it's our mission to make learning and teaching easy and fun. From time to time you'll see us use our "Learning Without Tears" author profile to share company updates or invite outside voices to share their stories on our blog.