A Modern Evolution for a Timeless Practice
Research-backed curriculum designed to be easy to teach and easy to lear

Developmentally appropriate sequence flows from Pre-K–5

Explicit instruction combined with guided practice to promote handwriting automaticity

Multisensory learning engages visual, audio, and kinesthetic learners

Hands-on tools to build vocabulary, fine motor, and alphabet knowledge prior to writing letters

Handwriting student editions foster student success with a clean, simple and intuitive design

Online platform connects teachers, students, and families
An Integrated Print and Digital Solution for Handwriting
Educators today need flexible instruction that meets the needs of each student. Our integrated print and digital handwriting solution combines simple print editions with powerful digital tools that help bridge the divide between school and home like never before.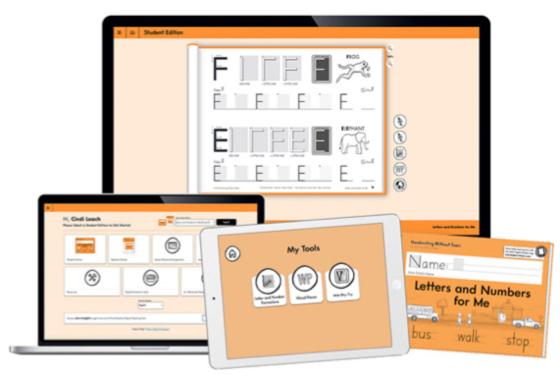 See the Handwriting Without Tears Process
Our instructional methods are designed for success. Explore the teaching strategies that have helped students make handwriting a natural, automatic skill for more than 40 years.
How Handwriting Without Tears® Aligns to the Science of Reading
Handwriting is one of the foundational skills that leads students toward automatic word recognition.
It falls in the bottom, skills portion of Scarborough's rope. As students form letters, they are solidifying the alphabetic principle. They need to be able to retrieve the symbol for the sound automatically, so as students practice in Handwriting Without Tears (HWT), they are learning to transfer that knowledge.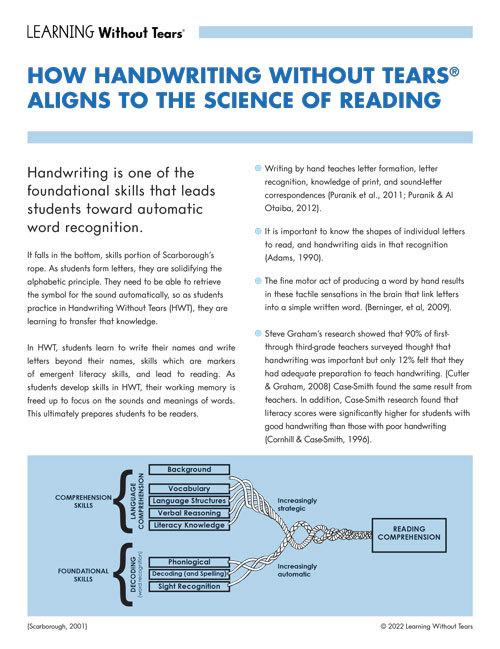 See For Yourself!
Click below for individual samples or check out our samples page to see the Handwriting Without Tears difference.
Eligible for Federal Funding
Handwriting Without Tears® print and digital solution meets ESSA's Tier 2 evidence criteria. Explore how you can use available funds to support reading in your schools.