One of the first lessons we learn as kids is how to count numbers. Opening the door to mathematics, learning numbers is a crucial skill to master in the earliest years of education.
When teaching numbers, many strategies can help kids feel confident in counting independently. It's not only important to establish the ability to count. Building an understanding of the numbers will help kids develop math skills in the future. Teaching numbers doesn't have to be a daunting task. With a patient approach and an engaging lesson plan, you will soon have your kids excited to count!  
When Should Kids Start to Learn Numbers?
Children are exposed to numbers at the very beginning of their lives, whether that be with pattern recognition or the ability to discern quantity amounts. That being said, children can begin learning their numbers as early as preschool. Since math is all around us every day, there are many opportunities to encourage number retention among kids who are not confident with their numbers. 
5 Tips for Teaching Numbers
At Learning Without Tears, we know that there are numerous strategies for teaching numbers to young children. We believe that with a proper plan in place, every child can feel confident about their knowledge of numbers. Consider Learning Without Tears' top five tips for teaching numbers to set your little ones up for success in mathematics.  
1. Begin with Number Formation
There are only ten characters that you need to teach or remediate (0-9). Think about that, just 10. 
Many of our children have names with more than 10 characters, especially when you consider writing their first and last name. It is much easier to teach ten numbers instead of 26 lowercase letters and 26 uppercase or capital letters. Also, numbers do not come in lowercase and uppercase. They are just one size. This makes teaching numbers for the first time or remediating numbers very easy as they are all made of the same size.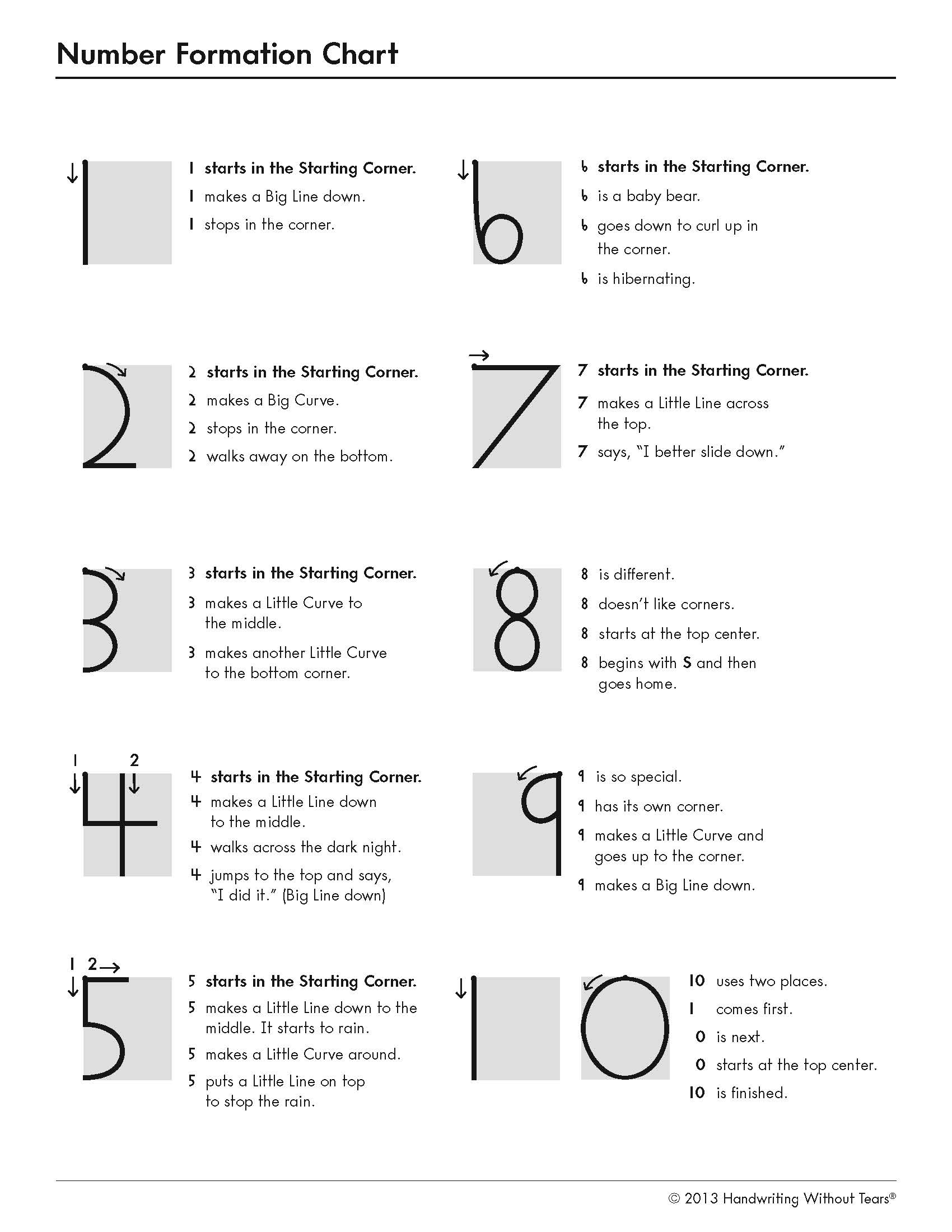 Click here to download a free copy of our Number Formation Chart.  
2. Start at the Top with Numbers
So many children struggle with where to start letters or numbers when they are writing. They generally form letters and numbers inconsistently, sometimes starting at the top, the next time starting at the bottom, and the next time maybe starting in the middle. The results of these inconsistent start patterns and habits are usually letters or numbers that are poorly formed and difficult to recognize or to read. 
All numbers start at the top. This is easy to remember. With the Handwriting Without Tears approach, we have a song, "Where Do You Start Your Letters." Well, one of the verses of that song goes, "Where do you start your numbers? At the top!" Yes! All numbers start at the top. 
If you are not familiar with our song, you can find it on our albums, our workbooks, on our website, and as part of our Interactive Teaching Tools. The kids really love this song. We have a short version and a longer version that really gets the kids moving as they learn about start, top, and bottom. The song even teaches them how to "shake it in the middle," which is so much fun for little kids. Please be sure to check it out. You will love this song, too! 
3. Create Number Stories for Sequence
Consider how numbers are actually formed during the writing process. We refer to this as start and sequence. We now know that all numbers start at the top. But what happens next? We call this sequence. 
To help young children learn to write numbers, we have developed what we call Number Stories for each one. These are clever ways to help our young children remember the correct way to form their numbers. We use reference words about where the number will start, followed by sequence reference words to build the automaticity of forming the number. 
These stories are found in our student and teacher books, on our website, and as a part of our Interactive Teaching Tools. Our number formation pages are free and can be found on our website. We even have them in Spanish! 
4. Use Friendly Terminology
At Learning Without Tears, we use the terms Big Line, Little Line, Big Curve, and Little Curve. All of the numbers can be made with these four basic strokes or shapes. 
For our younger children, we build numbers using our Handwriting Without Tears Wood Pieces. As they progress and learn to hold a writing tool, we use small chalkboards and chalk to teach proper number formation. Then we introduce small crayons and Gray Blocks to provide a visual guideline for not only the formation of the number but for size and placement as well. Lastly, they will use a pencil and the Gray Blocks to produce numbers, eventually transitioning to a single baseline in their workbooks or on paper. 
We even have an app for the iPad called Wet-Dry-Try to help teach, practice, and eventually master number formation. This is a great way to incorporate technology and add additional multisensory techniques to enhance learning opportunities for children. The Wet Dry Try app can also be used with capital and lowercase letters.
Check it out! Your children will really enjoy using this tool. 
5. Teach Number Placement
The placement of numbers on paper is also something we need to teach and address during our summer number lessons. I have already mentioned some of our techniques and strategies previously. 
All numbers are to be correctly placed on a single baseline. With young writers, we use the Slate Chalkboard to provide a strong visual and tactile representation of the baseline. This is also incorporated into the Wet-Dry-Try app for iPads. 
When the children transition into a student workbook, they have a visual of the Gray Block to guide placement. The next step is to place the numbers, starting at the top, onto a single baseline. Eventually, on math papers, the student will not have a line to place numbers on. At this level, they will "see" the line in their minds and place the numbers on it. This takes a while and a great deal of practice for children to be able to do this. Until then, use chalkboards, tablets, Gray Blocks, and lines to teach and remediate the placement of numbers. 
Learning Without Tears Can Help Teach Numbers!
Our goal at Learning Without Tears is to help provide trustworthy academic resources and products to parents and teachers to help prepare children for growth and success. We know that every child can be taught their numbers, but we want to make teaching numbers an engaging and worthwhile experience. As one of the first building blocks for mathematics and future learning, teaching numbers is a lesson that should be approached with references and support that we at Learning Without Tears are more than happy to provide.  
If you're curious about the best way to learn how to teach numbers, Learning Without Tears has everything you need. We provide an extensive collection of educational products and resources that will have your child counting in no time. With a diverse selection of items to help students of all learning types, we're confident that every child can benefit from the enriching teaching tools offered at Learning Without Tears. Explore our selection of free resources today to learn more!