Last month, the Learning Without Tears team, along with our beloved classroom character Mat Man®, embarked on a cross-country trip to Nashville, Tennessee.
Our ultimate destination was this year's NAEYC conference which was held in Music City Center, directly across from the historic Country Music Hall of Fame. We set out to meet new Pre-K education professionals while catching up with old Pre-K friends, and the response was wonderfully overwhelming.
Over 800 conference attendees came to visit our brand-new display booth and learn more about how they can increase the Pre-K educational possibilities in their classrooms—our goal for 2020! Guests were welcomed into a whimsical world of fun, foundational learning where we shared our big news about Get Set for School becoming a complete Pre-K program, showcased our new and updated hands-on products, and of course, offered life-sized pictures of the star of the show, Mat Man.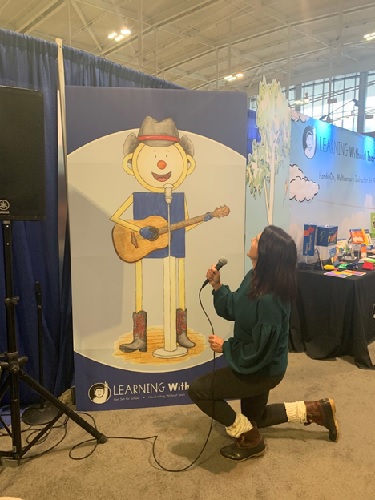 We couldn't leave Nashville without engaging in a little song and dance! The Learning Without Tears national presenters sang songs with visitors with music from our curriculum albums, which contain tunes like "Spiders Love to Party" and "Ten Little Fingers" that teach social, cognitive, and kindergarten readiness skills. Our crew also got guests moving with interactive dance steps that further engage students in hands-on learning.
When guests weren't engaged in hands-on learning activities, they excitedly waited to hear whether they were raffle winners of one of our new or updated multisensory learning materials like the new Magnetic Lowercase & Blackboard Set. 
Though Nashville was chilly during our stay, we left with warm hearts and a bright outlook! Our NAEYC 2019 audience was the first to hear how we plan to transform Pre-K learning and teaching like never before starting in 2020!
Our expanded Get Set for School curriculum meets every Pre-K learning domain and is almost fully available in Spanish. In addition to kindergarten readiness, language, literacy, numbers and math, we plan to dive deeper into social-emotional learning and expose children to science and social studies.
We're excited about our upcoming collaboration with thousands of early education professionals to encourage preschoolers to dream big and teachers to keep learning fun!