Uh oh! The school year is coming to an end. Your students may be itching to catch a break from their learning. As much as our students have earned some R&R from the rigors of early literacy, it's crucial to maintain the momentum they've built over the school year, even as those final school days tick down toward summer.
Learning Without Tears is here to help educators keep students pushing full steam ahead. With our new video series, Literacy Matters: Conversations with Cheryl, we meet with education professionals to get industry insights and more!  
This week, host Cheryl Lundy Swift, CEO of EduPower and a curriculum developer with Learning Without Tears, kicked off the series with special guest Dr. Miriam Ortiz.  Their conversation focused on the many ways you can help students stay actively engaged in your literacy curriculum towards the end of the year.
Owner and Chief Consultant of K12 Matters, Dr. Miriam Ortiz, shares her professional background and passion for improving the academic outcomes of readers of all ages. She has a history in the Early Literacy field and has worked extensively on Special Education and Program Evaluation.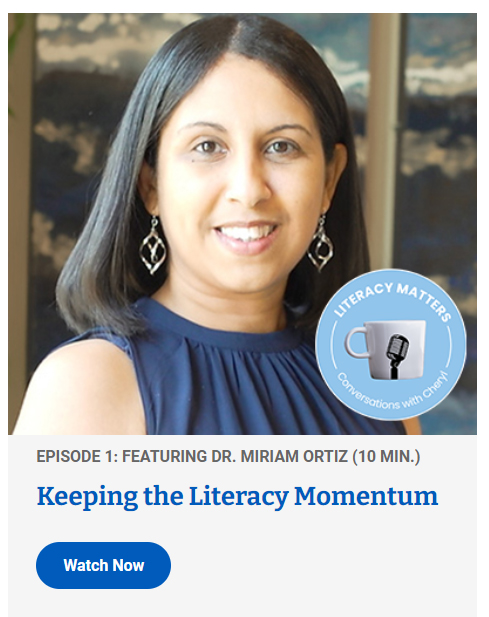 Watch the full conversation with Dr. Miriam Ortiz or try these 4 simple ways you can help students maintain their literacy momentum.
1. Use or create literacy activities/games to use in the classroom.
It's no secret that students love to play games. Implementing activities into your instruction is one of the easiest ways to get most students back in the literacy game! Create unique activities or try out our Readiness & Writing Manipulatives Kit to give your students a fun way to end the year.
2. Dedicate additional minutes to the skills that need remediation in individual students.
Every minute counts! We understand that students learn at varying levels across different skills. It's important to identify which skills students struggle with and tackle those with higher intensity. Spend a couple of extra minutes working on the target mechanics and watch your students flourish.
3. Encourage families to read with their students at home.
Seasonal breaks give students time to recharge, but they can also impede their literacy momentum. Encouraging families to read with or to their students for even just a few minutes a day can make a difference.  
4. Don't give up!  
The final months of the school year can be some of the most difficult ones to retain student attention. Don't let up off the literacy gas pedal! Set your students up for summer success by giving them your all.
These are just some of the tips you can find in our Literacy Matters: Conversations with Cheryl series. Watch the full 9-minute video to discover even more ways to keep your students' literacy momentum going!  
Whether students are learning in the classroom or at home, Learning Without Tears provides access to time-tested curricula, industry insights, and enriching products that help make teaching and learning fun! Give your student the confidence they need to make the most out of their early childhood education.