Discover
PHONICS, READING and ME
Phonics, Reading,
and Me Program Overview
Get a closer look at this breakthrough K–3 reading program.
Reading is not a natural process and does not come easily for all students. The instruction in Phonics, Reading, and Me™ is guided by the Science of Reading for how students learn to read best. 
Phonics, Reading, and Me:
Prioritizes phonics and word study skills

Focuses on rich fictional and informational texts that provide ample word and phonics skills practice

Provides multiple opportunities to read, talk, and write

Teaches high-utility phonics reading skills by reviewing words with similar patterns

Solidifies learning through multimodal reading practice using letter tiles, responsive writing, mini student books, digital activities, and more

Connects reading and, writing to, language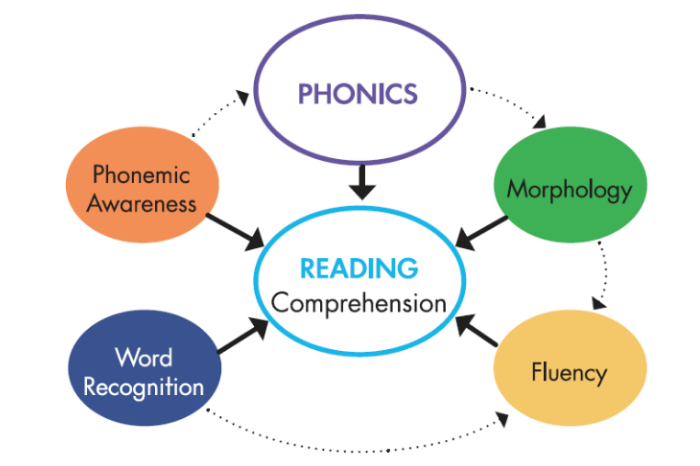 How Phonics, Reading, and Me Aligns to the Science of Reading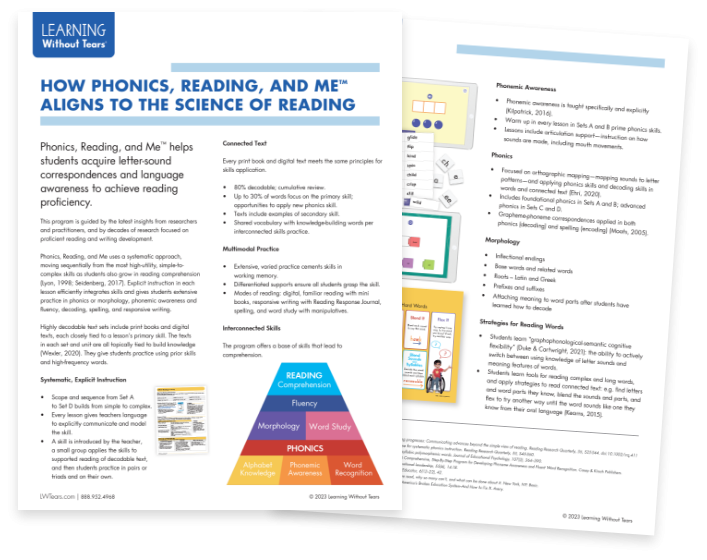 Phonics, Reading, and Me™ is structured to teach phonics skills systematically in the service of reading comprehension. The program's scope and sequence focuses on the essential reading skills students need to become proficient, so that small-group time is efficient and effective.
Systematic — The program teaches phonics systematic to help students progress from simpler to more complex skills and achieve reading proficiency.
Explicit — Each lesson provides teachers with explicit teaching routines to reinforce phonics and word study skills.

Students Learn Along Same Path
Toward Proficiency
Phonics, Reading, and Me is built on the belief that all students have the right to read with confidence. Some students may need extensive direct instruction, modeling, or repetition. But all students benefit from purposeful practice and a high volume of reading.
All students read the same highly decodable multicriteria texts

Students receive different reading scaffolds and extensions

Students' progress is monitored using digital learning reports

Real time data reporting give teachers the information they need to make flexible groups and meet students where they are

Every lesson is designed to help teachers differentiate instruction using scaffolded supports.

Multilingual learners are assisted with articulation and blending
Building Skills and
Knowledge
Phonics, Reading, and Me has multiple thematic units which allow students to build deeper reading knowledge and vocabulary about a variety of topics while enhancing phonics and word study skills.
PHONEMIC AWARENESS — Focus in grades K–1
FLUENCY — Focus in grades 2–3
Extensive decoding and encoding

Considerate cognitive load in each text

Meaningful connected texts with comprehension questions

Oral language through small group and partner conversations
As students combine their decoding skills with sight-word recognition, they are building reading fluency.
Phonemic Awareness
Every lesson has a brief warm-up on phonemic awareness that leads into phonics instruction. Teachers provide a model for words and sounds that children hear and say.
High-Frequency Words
Children strengthen their reading automaticity when they encounter high-frequency words in the program's texts.
Automatic Word Recognition
Automatic word recognition is important to ensure that children can read sight words effortlessly, whether they learn words by decoding or by recognizing parts when reading.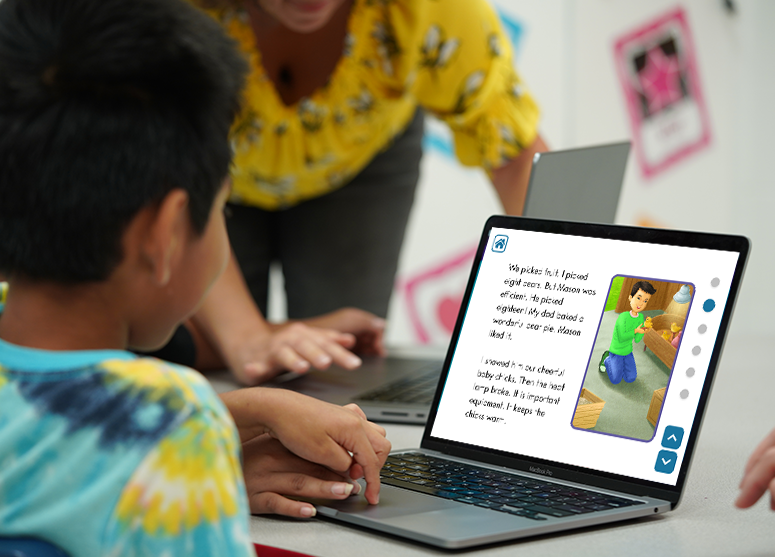 TESTIMONIALS
"The intertwined connections to real world, real life and all the learning modalities facilitate learner success."
Vanessa Brown, B.A., M.Ed.
Retired Assistant Principal and ELA Coordinator

"With the implementation of the teacher's guide, activity books and manipulatives, Pre-K teachers have the tools they need to successfully prepare young children for kindergarten."
Schronda McKnight-Burns M. Ed.
Assistant Director of Early Childhood Education

"The active teaching really brings the workbook to life by adding in different interactive learning strategies and activities on each page."
Lanor Payne, Ph.D
Director of Early Childhood

"Our students have used Keyboarding Without Tears for years. This program goes beyond nurturing students' typing skills. It gives them the confidence with technology they need to truly succeed today."
Mary Toomey
Assistant Superintendent