Discover
PHONICS, READING and ME
For over 40 years, Learning Without Tears has been building practical, easy to implement tools to support all learners.  All of our products are grounded in research and use a multimodal, developmental approach to prepare children to become proficient listeners, speakers, readers, and writers. Our passion is creating products and services that help teachers and families instill literacy skills that last a lifetime.

A–Z FOR MAT MAN® AND ME
And Phonics, Reading, and Me™
Letter learning is a multifaceted skill that includes knowledge of letter names, letter sounds, and letter forms. This integral skill, also known as alphabet knowledge, is crucial to early literacy and has been shown to be one of the strongest predictors of later literacy development.
A–Z for Mat Man and Me teaches alphabet knowledge and seamlessly prepares children for Set A of Phonics, Reading, and Me™, which builds high-utility phonics skills such as short vowels and consonant digraphs.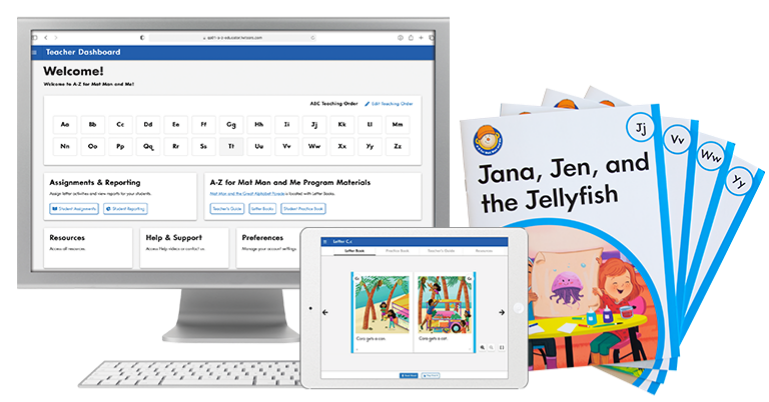 HANDWRITING WITHOUT TEARS®
And Phonics, Reading, and Me
Phonics, Reading, and Me™ includes the trademark handwriting models that are core to the Handwriting Without Tears curriculum. Together, both programs deepen literacy learning, reinforcing and extending handwriting instruction and phonics skills.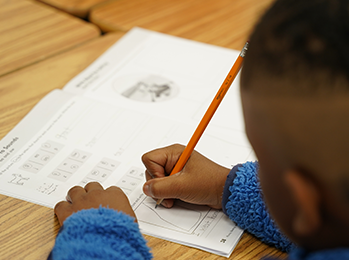 HWT: Writing is applied phonics. Integrated handwriting is a powerful addition for early literacy programs.
PRM: Students build on the tactile written forms as they are practicing phonics skills via encoding and writing skills in response to the texts they read.
GET SET FOR SCHOOL®
And Phonics, Reading, and Me
The Get Set for School complete Pre-K program includes many hands-on learning products that can support and extend reading instruction in Phonics, Reading, and Me.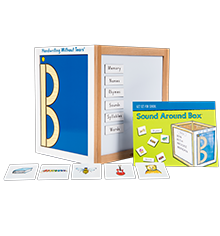 Sound Around Box
Practices - Phonemic awareness and phonics skills
Students use magnetic tiles and other manipulatives to help them identify beginning sounds, segment, and blend words.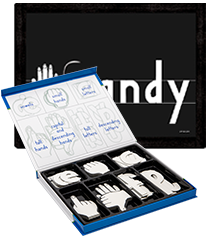 Magnetic Lowercase and Blackboard Set
Practices - Decoding, encoding, and learning affixes
Students write on the board and manipulate the letters to make words and word parts.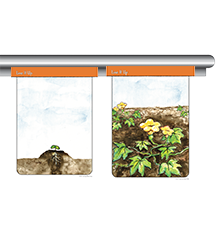 Line It Up
Builds - Phonemic awareness, comprehension, and narrative skills
Students assemble a sequence of images to create scenes.
Popular Products & Courses
TESTIMONIALS
"The intertwined connections to real world, real life and all the learning modalities facilitate learner success."
Vanessa Brown, B.A., M.Ed.
Retired Assistant Principal and ELA Coordinator

"With the implementation of the teacher's guide, activity books and manipulatives, Pre-K teachers have the tools they need to successfully prepare young children for kindergarten."
Schronda McKnight-Burns M. Ed.
Assistant Director of Early Childhood Education

"The active teaching really brings the workbook to life by adding in different interactive learning strategies and activities on each page."
Lanor Payne, Ph.D
Director of Early Childhood

"Our students have used Keyboarding Without Tears for years. This program goes beyond nurturing students' typing skills. It gives them the confidence with technology they need to truly succeed today."
Mary Toomey
Assistant Superintendent