Discover
PHONICS, READING and ME
A Snapshot of Success in the Classroom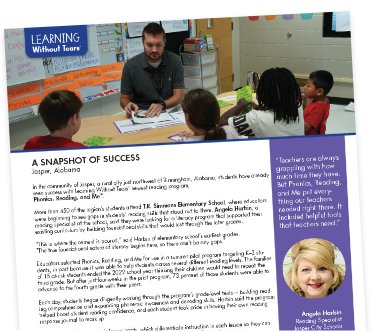 Meet Students Where They Are
Helping the whole class meet grade-level targets can be challenging. That's why lessons in Phonics, Reading, and Me prescribe different paths for each skill. Each lesson is structured with recommendations for how to read the Student Book together in a small group, with differentiation and scaffolding that support all learners.
Supported Options Available:
Below, on, and above level supports are included for each section

Multilingual learner supports are available for demanding aspects of language of the lesson in the classroom and in digital learning

Decoding and articulation supports help students who need them.
Before-Reading Differentiation
Build background on anything that could impede understanding. Choose which supports fit each group.
During-Reading Differentiation
Engage in shared reading to help students with accuracy, comprehension, and fluency, including focus on both word-level reading and reading for meaning.
After-Reading Differentiation
Culminate the lesson with each small group and guide students to transfer their learning via multimodal practice. Differentiate based on what they most need.
Student digital learning experiences are adapted based on performance in formative assessment checkpoints and connected with the teacher-lead instruction. When students need more support, they get it for the particular skill.
Try the Phonics, Reading, and Me
Digital Experience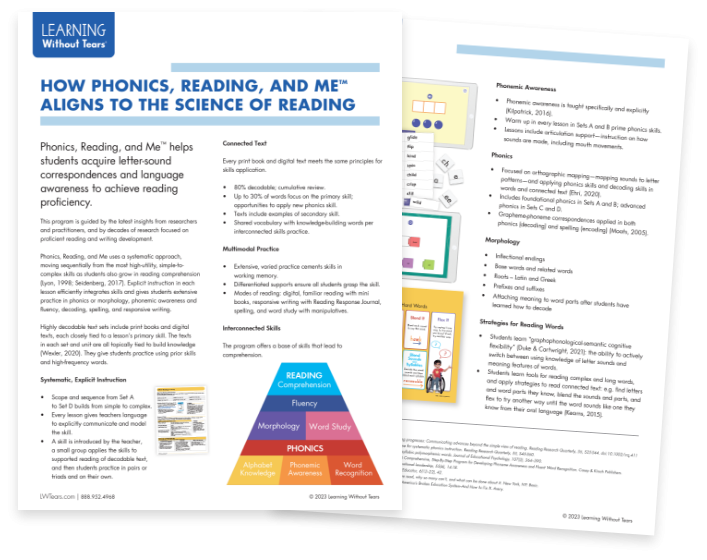 Get access to all that the Teacher Digital Tool offers, including resources for planning, teaching and reporting with our 30-day trial. Add full demo copy about the power of adaptive digital pathing and more.
Proud to be a 2023 EdTech Awards Finalist for Cool Tool in the Reading/Literacy category!
TESTIMONIALS
"The intertwined connections to real world, real life and all the learning modalities facilitate learner success."
Vanessa Brown, B.A., M.Ed.
Retired Assistant Principal and ELA Coordinator

"With the implementation of the teacher's guide, activity books and manipulatives, Pre-K teachers have the tools they need to successfully prepare young children for kindergarten."
Schronda McKnight-Burns M. Ed.
Assistant Director of Early Childhood Education

"The active teaching really brings the workbook to life by adding in different interactive learning strategies and activities on each page."
Lanor Payne, Ph.D
Director of Early Childhood

"Our students have used Keyboarding Without Tears for years. This program goes beyond nurturing students' typing skills. It gives them the confidence with technology they need to truly succeed today."
Mary Toomey
Assistant Superintendent