Discover
PHONICS, READING and ME
Gauge Your Instruction
Formative and summative assessments are built in, ensuring that the resources meet students where they are—providing instructional supports where needed and opportunities to stretch as students are ready. These assessments are used throughout the program to help you monitor the individual progress of your students and create flexible groupings.
Embedded Progress Monitoring
Teachers have a variety of tools for monitoring student progress, using data to inform grouping and drive instructional decisions.
Assessment checkpoints include: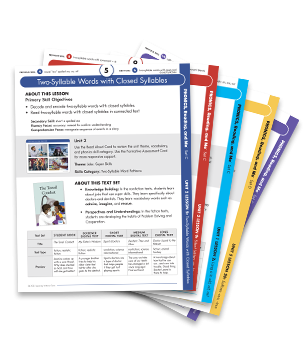 Lesson Cards
Provide guidance on observing children reading during teacher-led groups and applying skills during student-directed classroom practice.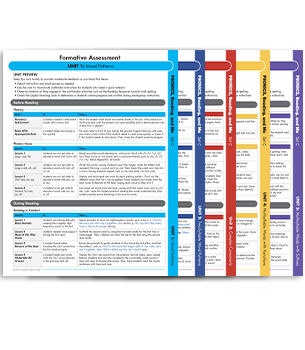 Formative Assessment Cards
Used for responsive support based on small-group and independent work.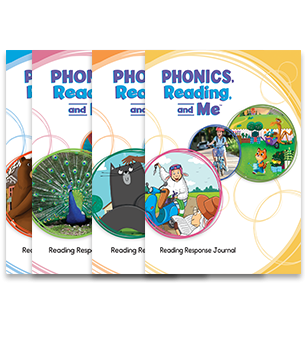 Reading Response Journal
Provides lesson-level and unit-level skills checks as well as a beginning-of-the program screener and cumulative check at the end.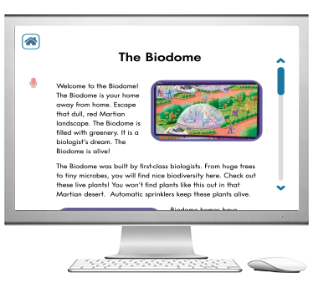 Digital Screener and Skills Activities
Voice-enabled digital readings create data-driven pathing within the Student Digital Learning.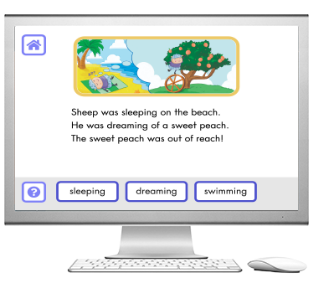 Digital Text Quick-Checks
Check for understanding and drive personalized support.

Speech Technology
Digital assessments use speech-technology to save teachers time and access rich data to inform pathing. This oral reading screener digital test, powered by SoapBox Labs, records each child reading a short decodable text and scores the reading based on the child's ability to read skill words in connected text.
How Feedback is Used
Based on student performance, teachers have the data they need to identify students who need more support, ensuring the class continues along the same path to reading fluency.

Popular Products & Courses
TESTIMONIALS
"The intertwined connections to real world, real life and all the learning modalities facilitate learner success."
Vanessa Brown, B.A., M.Ed.
Retired Assistant Principal and ELA Coordinator


"With the implementation of the teacher's guide, activity books and manipulatives, Pre-K teachers have the tools they need to successfully prepare young children for kindergarten."
Schronda McKnight-Burns M. Ed.
Assistant Director of Early Childhood Education


"The active teaching really brings the workbook to life by adding in different interactive learning strategies and activities on each page."
Lanor Payne, Ph.D
Director of Early Childhood


"Our students have used Keyboarding Without Tears for years. This program goes beyond nurturing students' typing skills. It gives them the confidence with technology they need to truly succeed today."
Mary Toomey
Assistant Superintendent