Handwriting Without Tears®
Pacing Guide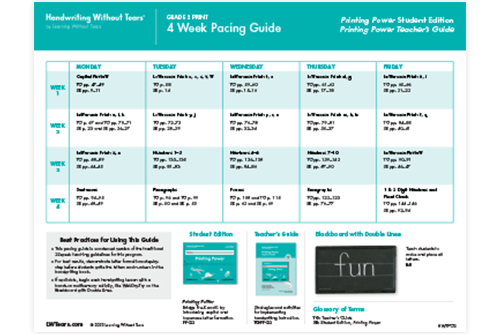 A-Z for Mat Man® and Me
Pacing Guide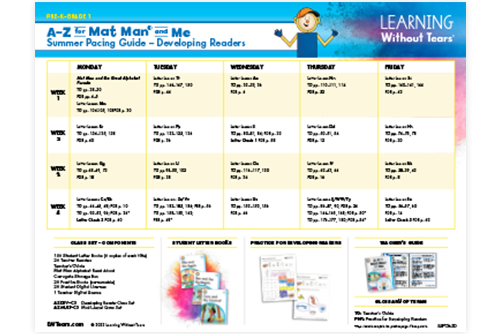 Phonics, Reading, and Me™
Pacing Guide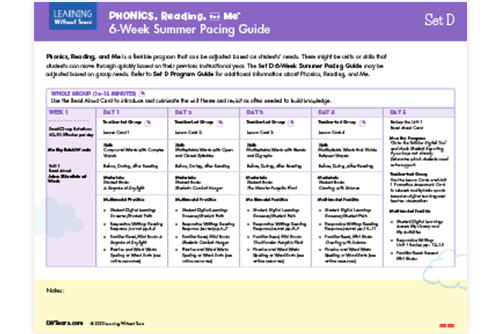 Get your children ready with perfectly-paced programs for handwriting, reading, and writing. 
Need a quick and effective solution for summer programs, remediation, enrichment, tutoring or after care? We offer two programs designed for 4-to-6-week supplemental support that can be used year-round. Includes FREE pacing guides, implementation videos, and step-by-step instructions.
Explore our full catalog or contact our sales professionals to build a solution customized to meet your needs.
Supplement Summer Learning and Get a Head Start on Back-to-School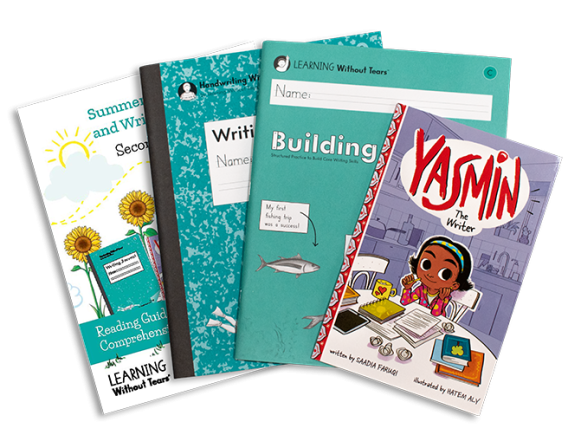 Reading & Writing Kits
Build students' writing skills by combining some of our favorite writing materials with beloved children's books. At-home instructions and additional free resources are also included, encouraging students to read and write all summer long!
See what's inside each grade-level pack, or buy yours today.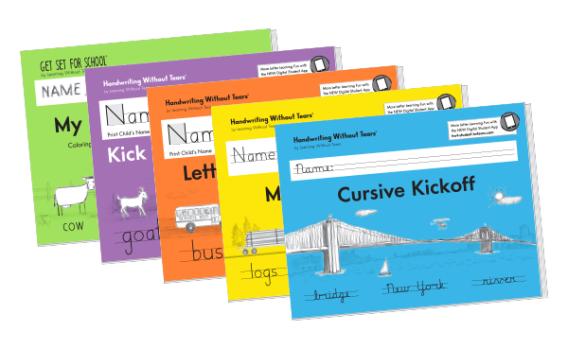 Student Editions & Teacher's Guides
Handwriting Without Tears uses fun, engaging, and developmentally appropriate instructional methods to help students master handwriting.
Each grade-level focused student edition and teacher's guide helps pave the path to handwriting excellence with targeted lessons and multisensory activities.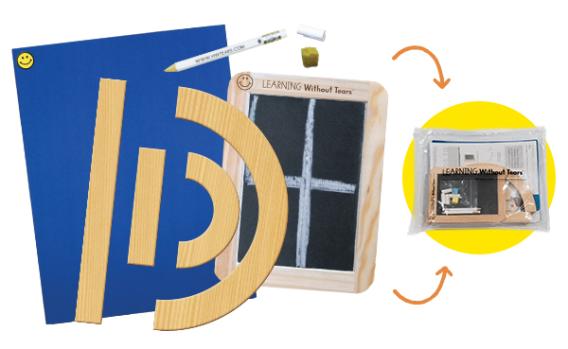 Letter Learning Packs
Get students their own hands-on learning packs! These flexible packages include everything you need to integrate essential multisensory learning into your lessons.
You can get started immediately with favorite activities such as Wet-Dry-Try and hands-on letter play.



Reach Handwriting Success in 4–6 weeks
Use our Handwriting Without Tears curriculum in your summer school, enrichment, tutoring and after-school programs. Arranged in 4-to 6-week program sets, lessons come with free pacing guides to guide your implementation.
Watch this video to review the materials and see just how easy it is to implement. This 20-minute video can also be used as the training for your educators, whether they are instructing for acceleration or remediation.
Alphabet Knowledge and Phonics Through Connected Text
A–Z for Mat Man® and Me is designed to effectively teach alphabet knowledge, oral language, and other foundational literacy skills through engaging and culturally diverse stories. Using our 4- and 6-week lesson plans, you can adjust instruction as needed.

This video provides a tour of the materials and the explains what educators need to get started and implement effectively.
TESTIMONIALS
"The intertwined connections to real world, real life and all the learning modalities facilitate learner success."
Vanessa Brown, B.A., M.Ed.
Retired Assistant Principal and ELA Coordinator

"With the implementation of the teacher's guide, activity books and manipulatives, Pre-K teachers have the tools they need to successfully prepare young children for kindergarten."
Schronda McKnight-Burns M. Ed.
Assistant Director of Early Childhood Education

"The active teaching really brings the workbook to life by adding in different interactive learning strategies and activities on each page."
Lanor Payne, Ph.D
Director of Early Childhood

"Our students have used Keyboarding Without Tears for years. This program goes beyond nurturing students' typing skills. It gives them the confidence with technology they need to truly succeed today."
Mary Toomey
Assistant Superintendent