More fun and learning for your classroom! 
Access the top 10 downloads from our newsletters that include free worksheets to practice handwriting in all subjects and support school-to-home connections.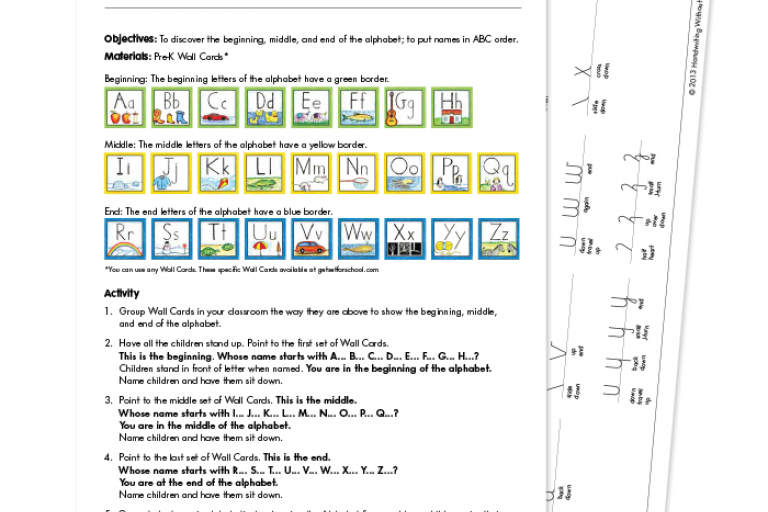 Here's a sample of our downloads, for Kindergarten. We have downloads for grades Pre-K to 5.
Number Formation Chart
Learn the step-by-step, child-friendly way to teach number formation.
ABC Names For Pre-K
Children learn to put names in ABC order.
Where Do You Start Your Letters?
Send home this fun song so families can help instill good starting habits for capitals.
Print Letter Formation Charts
Cursive Letter Formation Charts
Alphabet Strips for K–5
An easy, child-friendly method for alphabetizing.
The Three Bs
Use these downloads for a fun introduction to the music of Bach, Beethoven, and Brahms.
Famous Faces Activity
Build, draw, and write with Famous Faces.
Social Studies Activity
Introduce the Declaration of Independence and the Constitution with coloring pages, puzzles, and writing activities.
Geography Activity
Use these downloads of the seven continents to help children write about the world we live in.
Mat Man Envelope Activity
Send Mat Man and this fun activity home with students! Remember to send home the parent piece too. Parents will have fun learning about Mat Man and building him with their children.
Love Book
Encourage your young learners to create their own books about all the things they love!
Everything Will Be Okay
Spreading hope and optimism in our world! ❤️ Download this free activity for your young learners.
English | Spanish | Italian | German | French
Make Your Own Letter and Number Cards
If you're in need of some home learning activities, these little letter and number cards are loaded with hands-on fun!