Superhero Teacher Stories
Megan Parker
December 16, 2019
0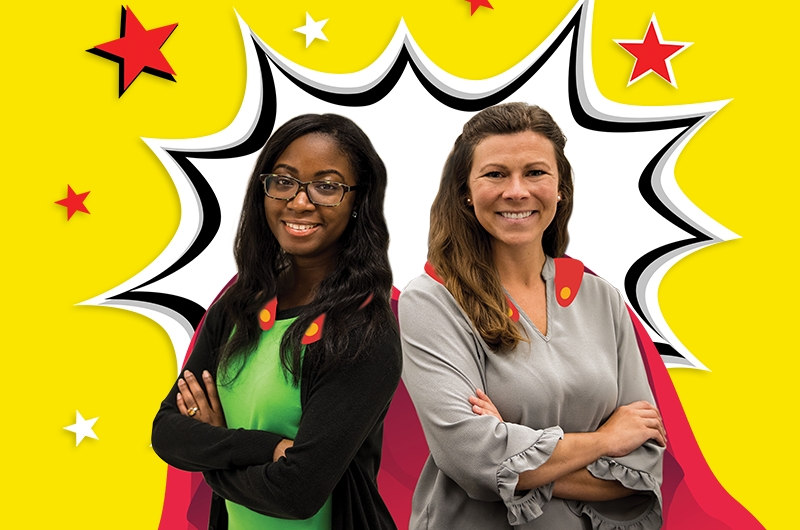 Educating the little minds of the future is no easy feat. Today, we're getting inspired by amazing educators who entered our Superhero Sweepstakes back in July. Read on to see some of the inspiring entries we received for our contest and keep an eye out here on our blog for upcoming contests and savings.  
"My wife is the actual superhero as she takes on the task of homeschooling our children."
-Homeschooling parent, PA
"Samantha is a superhero for her students because she gives each child 100%. When she is doing one-on-one work, you would think she had nothing else to do but teach that one child that one lesson, or concept, and she sticks with it until the child understands well. She truly wants them to succeed."
-Teacher, KS
"My educator superpower is my ability to laugh and have fun after 28 years at my centre. Every morning I wake up, I am excited to come to work and see all the kids. Plus, my kids keep coming back to visit me after years away, and a bunch have come back to bring their own children to join my program. I can't imagine working anywhere else."
-Educator, British Columbia          
"Mat Man is our mascot and he is our superhero for the year. We have him on our classroom door, we decorate him for the holidays/seasons, and the children greet him each day as they enter the room."
-Educator, NH
"I am a superhero because I have chosen to educate my five children at home. I spend a lot of time planning and preparing so they can get the best education possible. I collaborate with other homeschool parents so that we can support one another and help each of our kids succeed. I also am continually reading and learning more about each of my kid's challenges so I can help them overcome and be successful learners."
-Homeschooling parent, NY
"I am the K–6 instructional coach. I love supporting teachers! We are a small K–6 elementary school in a rural, socioeconomic depressed county that has maintained an A or high B state rating the past several years."
-Instructional Coach, IN
"I am a superhero in the classroom because I can differentiate my students for both reading and math! I work hard to meet everyone's needs!"
-Teacher, OH
"Teaching has always been my calling. Even in kindergarten, whenever we would play "school," I always played the teacher. I just started my 23rd year of teaching. There is nothing better than working with my littles!"
-Teacher, TN
By Megan Parker
Megan Parker received her Bachelor of Science degree in English from Towson University. She has a background in writing for children that includes working in the editorial department at Girls' Life magazine, where she wrote for the print magazine and website. She has versatile experience as a writer, editor, and copywriter, and her writing has been published in magazines and newspapers. When she's not having fun creating imaginative content at Learning Without Tears, she loves to travel the world.