March is Music in Our Schools Month!

Tania Ferrandino
March 2, 2020
0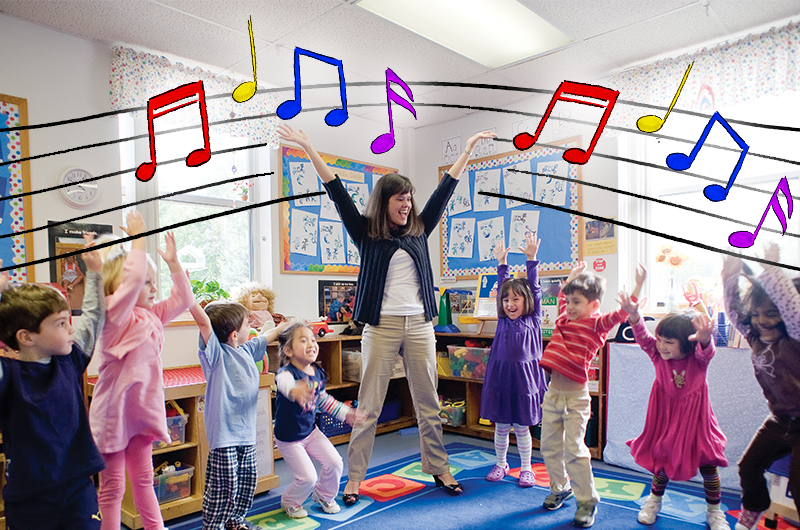 March is Music in Our Schools Month® (MIOSM)!  Aside from being fun, music can play an important role in early childhood development. Multiple studies have found that being exposed to music or playing a musical instrument can have positive effects on the brain.
In 1973, early members of the National Association for Music Education (NAfME) developed a grassroots campaign to bring awareness to the importance of music education in New York schools. 
What started out as a single day in 1973, celebrated solely in New York, grew into a week and now month-long national celebration in schools across the country. Schools celebrate Music in Our School's Month (MIOSM) in various ways including concerts, special lessons, sing-a-longs, and any other activities that showcase the benefits of music education.   
Here are three skills that can be taught by incorporating music and movement into your school day:
1. Letters and Numbers
Catchy songs with memorable lyrics can be used to help students remember the mechanics and rules of forming letters and numbers. Songs can break down complex concepts into engaging activities that students not only enjoy, but eagerly anticipate. Here are a couple of our favorite letter and number songs from Sing, Sound & Count With Me Music Album and Rock, Rap, Tap &  Learn Music Album.
2. Fine Motor Skills
Songs with corresponding movements capture the attention of every learning style. Not only will students memorize important lessons from a variety of subjects, they will also develop strong fine and gross motor skills, which are necessary for participating in critical learning activities, such as writing. Here's a kinesthetic, foundational, follow-along called "Ten Little Fingers" that encourages students to move their fingers from the Get Set for School Sing Along Music Album. 
3. Social and Emotional Skills
Music education provides social benefits and is effective in helping students understand socialization. Songs can teach students how to greet one another, take turns, and many more skills needed for classroom collaboration and student cooperation.
The Rock, Rap, Tap & Learn Album helps young students develop self-esteem and body awareness. The Sing, Sound and Count With Me Album prepares Pre-K students for elementary school with songs about letters, numbers, and manners. Finally, the Get Set for School: Sing Along Album combines music with dance and encourages students to get active as they learn foundational concepts. 
---
At Learning Without Tears we understand the extensive benefits of music and the impact it has on children's learning and development. That's why we integrate fun and educational songs into our Pre-K and early elementary school curricula.
Our NEW Pre-K Interactive Teaching Tool brings learning to life with multimedia assets, including music and videos that include children singing and moving to our music. Find out more here.

Our Handwriting Interactive Teaching Tool for children in K-5 also features embedded music, videos, and much more. Find out more here.

Teachers and occupational therapists looking to implement music into their lessons can also find our albums on our website. 
Learning Without Tears wishes you and your students a happy Music in Our Schools Month!

By Tania Ferrandino
Tania Ferrandino, OTR/L is an Occupational Therapist from Dover, DE. She developed a passion for working with children and ultimately teaching others after attending her first Handwriting Without Tears workshop with Jan Olsen in 2002. She has written a series of grants, taught HWT workshops and made it her mission to help all children achieve handwriting success. She is currently a program specialist and national presenter for Learning Without Tears.