Happy Occupational Therapy Month everyone!
In celebration of OT Month, I wanted to offer some information on a rapidly growing medium for providing occupational therapy, virtual occupational therapy. Virtual occupational therapy, also known as telehealth, is a wonderful medium for occupational therapists to use to provide services to those in need, especially when in-person services are unavailable.
As an occupational therapy practitioner, it is important to know what resources you have available to you.
First, check with your state licensure board regarding any regulations for occupational therapy practitioners to provide services through telehealth.
In addition, check with third party payers. Many of them have relaxed their guidelines where they will now allow reimbursement for telehealth, at least during the crisis.
Also, check your requirement for HIPAA and FERPA compliance with your employer, licensure board, and national guidelines. AOTA has a great website of resources as well.
Helping Families Prepare
Now, there are some important things to note when providing telehealth services.
It may be helpful to make a list of everyday supplies that you can use for therapy. Provide that list to the family of the child you are treating and let them identify what they have available. This can help in treatment planning. Be creative! You may provide recipes for homemade play dough or other sensory items as well.
I like to create a visual schedule of the activities that will be completed during the session in PowerPoint or on a Word Document. This helps me stay on track and also provides the child with a plan.
I try to allow some type of "play" activity at the end that is motivating to the child. Often it is a game from some educational website.
Making the Most of Digital Tools
Digital resources are great tools to use with students when providing telehealth. Right now you can access both the Handwriting Interactive Teaching Tool and the Pre-K Interactive Teaching Tool from Learning Without Tears for free.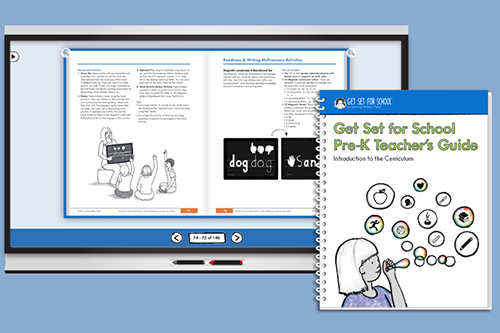 Both of these tools have features that can be used for demonstration and for interactive activities (mouse skills for all and letter formation if they have a touchscreen device). You can share your screen with them if using a platform like WebEx or Google Chat so they do not need their own subscription.
You also have direct access to all of the Learning Without Tears music and the Mat Man story books through these tools to complete engaging activities.
 
In addition, for students working on keyboarding skills, the Keyboard Without Tears tool is great. This is a great tool to recommend to parents that can be used outside of therapy sessions as well because you can give the parents access. One of the unique opportunities with telehealth is that we can provide education to the parents at the same time we are working with the child. This will help improve carryover at home. Many of the animations and video demonstrations within these interactive teaching tools are very helpful for these purposes.
 
Thank you for all you are doing to help these students during this time. We all greatly appreciate your time, energy, and extra effort!
 
---
Supporting Schools and Families Affected by COVID-19
We're here to help you navigate these unprecedent times. Click here for even more resources that can help you continue children's handwriting, keyboarding, and pre-kindergarten development from a distance.