Not all letters are created equal. When approaching handwriting instruction in the classroom, it's crucial to have a toolkit packed with the perfect strategies that turn students into confident writers and readers. 
Dr. Kathleen (Kit) Mohr, Ed.D., a professor of Language and Literacy Development, joins us on this week's episode of Literacy Matters to discuss the importance of achieving handwriting fluency early on in a student's literacy journey. Mohr shares over 15 years of experience as an educator working in traditional, bilingual, and gifted programs.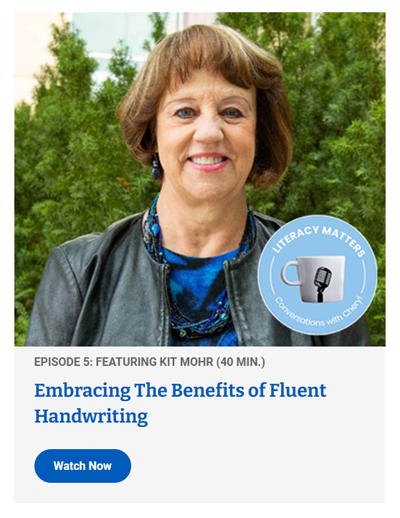 Here are some of the reasons why handwriting instruction is a key piece to the literacy puzzle. 
It's the Key to Getting Ideas Out! 
Students are bundles of creative energy. Without a proper outlet for their creativity, it can quickly fizzle out. Get ahead of the burnout by getting your students acclimated to practicing their handwriting early on in their journeys. When students understand how to write properly, they are more likely to have fun doing it! 
Oral Language Development Equals Written Language Production 
Not only is it important that students practice writing the letters, but it is also just as vital that they understand their sounds. A well-rounded approach to handwriting fluency integrates consistent activities that focus on phonemic awareness. Students that know how to sound out letters are more likely to recall their properties as they expand their vocabulary.  
Handwriting: Still Relevant in the Digital Age 
Computers are everywhere. Whether in the form of keyboards or touchscreens, technology is making education more accessible than ever. However, that doesn't mean that good old handwriting is obsolete. In fact, it establishes the very foundation needed for becoming successful communicators, no matter what input method they use throughout their lives.  
Handwriting Understands the Two-Dimensional Space 
Before first stepping foot into a classroom, students transition from working within a three-dimensional learning space. An example from Mohr relates to the existence of a chair in a room. No matter which way you face a chair, it's always going to be a chair. On the flip side, the letter "b" won't always be the same letter if it were inverted. Handwriting and printed text reinforces the alphabetic principle by showing them the dos and don'ts of written language. 
Even as we progress further into the digital age and beyond, there's nothing like the basics. Spending as little as 15 minutes a day on handwriting can make a world of difference later down the road. That is why we are here to help you position the literacy stepping stones and help your students enhance their journey. 
Learning Without Tears is committed to helping you become the literacy heroes your students need. By partnering with experts in the field, Literacy Matters is diving deep to explore the tips, tricks, and resources that make a world of difference in and out of the classroom. 
To get more industry insights on the positive effects of proper handwriting from Dr. Kit Mohr, watch the full episode of Literacy Matters with Cheryl Lundy Swift.