It's the Big Reveal!
Megan Parker
January 2, 2018
2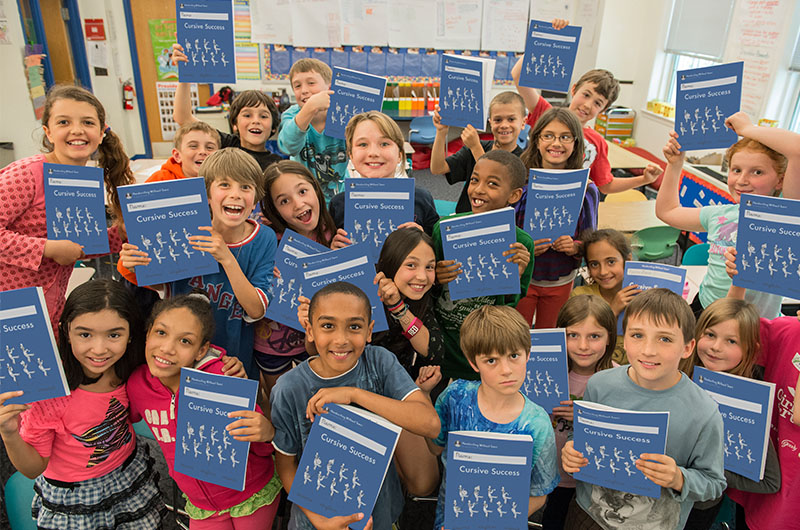 Ta-da! We've been dropping hints like breadcrumbs about what secret developments we've been working on, but today we're finally revealing the new Learning Without Tears line-up. The New Year has brought brand new editions of all of our teacher's guides, new journals, and a new grade level for transitional kindergarten. We've also added a new line of writing worksbooks for extra practice—plus, a revolutionary new way to teach handwriting in the digital age! Let's take a look at how we're revolutionizing handwriting instruction in your classroom:
New Student Editions and Teacher's Guides
• Now includes multimedia options for each lesson
• New, more intuitive teaching guidelines and lesson plan design
• More writing activities!
• Offers opportunity for developing independent writing skills
• Provides developmentally appropriate writing practice
New grade level: Kick Start Kindergarten for Transitional kindergarten
• Bridges Pre-K and kindergarten by introducing capitals and lowercase letter formation
• Provides developmentally appropriate activities, and fine motor skills development
• Gives differentiated instruction and cross-curricular activities
Even more writing practice…
Building Writers is a new line of student editions that offer extra practice for writing skill development and can be easily incorporated into a writing block as independent writing or as whole group practice to meet your students' varying needs. Students become better, more fluent writers as they write about cross-curricular topics and practice three types of writing styles: narrative, information, and opinion.
• Structured practice to build core writing skills
• Developmental approach to writing 
• Offers customizable writing templates to fit with any topic
• Builds confident communicators and improves overall communication skills
• Eliminates the need for worksheets
Introducing…
HITT: The Handwriting Interactive Teaching Tool™
We've completely reimagined handwriting instruction to align with evolving digital classroom trends. HITT is a one-stop, digital teaching platform for teaching handwriting. Manage all of your handwriting lessons plans while reducing prep time with ready-to-teach lessons right from electronic student editions. Need a more specific lesson? HITT is flexible, so you can adjust the ready-made presentations to fit your unique classroom needs.
Features of HITT include:
One stop shop teaching tool for any interactive whiteboard or projector 
Includes digital student editions and teacher's guide
Multimedia options for teaching for each lesson: digital letter and number formations, teacher-favorite animations, music, instructional videos 
Access to fun cross-curricular connections, supplemental lessons, and downloads
Designed for no prep classroom instruction
User-friendly platform makes teaching easy
Engages different learning styles in the classroom

By

Megan Parker
Megan Parker received her Bachelor of Science degree in English from Towson University. She has a background in writing for children that includes working in the editorial department at Girls' Life magazine, where she wrote for the print magazine and website. She has versatile experience as a writer, editor, and copywriter, and her writing has been published in magazines and newspapers. When she's not having fun creating imaginative content at Learning Without Tears, she loves to travel the world.