Alphabet knowledge is one of the first building blocks of education, the moment when children begin learning the letters of the alphabet. As the stepping stones of language, learning the alphabet is one of the first ways we develop the skills necessary to read and write. In fact, studies show that the ability to name the letters of the alphabet during Pre-K and kindergarten is a well-established predictor of children's literacy skills later in life. Properly knowing the alphabet means that the child can distinguish between the 26 letters of the alphabet and can also verbalize those letter sounds. There are many different ways to approach teaching the alphabet, and because every child is different, multiple teaching methods should be considered to ensure that all students are on the same path toward mastering letter sounds. 
Tips for Teaching Letter Sounds
Many factors play a role in a child's quest toward learning the alphabet. When teaching letter sounds, it's important to consider that students have varied learning styles. It is best to use a combination of visual, tactile, and auditory strategies in order to reach learners most effectively. Taking advantage of all possible approaches and beginning at an appropriate pace for the age group is key for making sure the child has learned the alphabet.  
Preschool vs Kindergarten
Establishing the child's starting point is crucial for properly knowing where to begin in regards to the child learning letter sounds. In Pre-K, students are beginning to establish phonemic awareness, and these skills can grow quickly. By establishing the learner's baseline, you are able to help them achieve greater growth throughout their Pre-K and kindergarten years. 
Start With Their Name
Taking full advantage of meaningful literacy during early childhood education is a great way to connect lessons with the student in an intimate and fun way. Starting with teaching the child's name guarantees that there will be a personal connection to the letters of the alphabet and teaching the letter sounds of their name will help them to remember certain letters and touch on correct letter order as well. Start with their name and then move on to other personal buzzwords such as their favorite food, color, and so on.  
Capital Letters First
When teaching letter sounds, children typically learn capital letters first so it's much easier for them to recognize capital letters than lowercase letters. When using visual materials for teaching letter sounds, begin with mastering capital letters of the alphabet and then move forward to incorporate lowercase letters as well. This allows them to have a foundation for letter sounds while then focusing on letter recitation overall.  
Use Visual Cues
Visual cues are a huge helping hand in the quest for properly teaching alphabet letters and sounds. Combining verbal and visual instruction to provide aid for the child allows them to commit the letters to memory and recall those letters later on. Consider using physically engaging alphabet resources to help give kids visual assistance in learning letters and sounds. Some great tools we suggest include:  
Letters or Letter Sounds First?
Each student is unique! Some children will have an easier time identifying the letter, while others may have a better time learning the sound before the corresponding letter. Take note of which direction the child is leaning toward and cater to their individual needs. But first and foremost, ensure you invest a healthy amount of time in establishing letter-sound-correspondence when teaching letters and sounds.  
Mix Up the Standard Alphabet Order
A great way to ensure that the student is properly able to identify and replicate alphabet letter sounds is to change up the alphabet order. This allows the teacher to see if the student has retained the alphabet properly or has maybe relied heavily on educational tools like songs and games to be able to identify letters. A-B-C Touch & Flip Cards are a great tool for mixing up the order to ensure each letter gets its own spotlight and that the child can confidently excel in mastering the alphabet.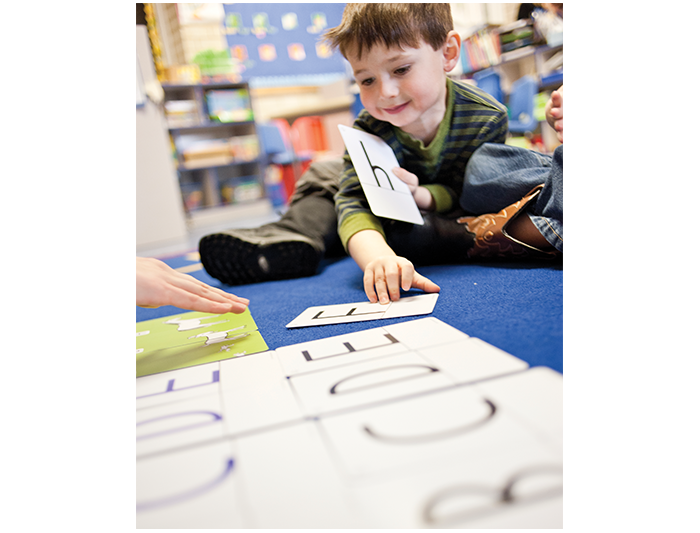 Make Letter Sounds Fun
One of the best parts of teaching letter alphabet sounds is watching the moment when it finally clicks for the child. Teaching letter sounds should be a fun experience for the child. That positivity helps encourage comprehension and encourages further development of these skills. Try playing games, singing catchy alphabet songs, or even assigning alphabet-based art assignments to help make learning the alphabet a fun experience.  
Learning Without Tears Knows Letter Sounds!
Once a child has confidently mastered letter sounds and the alphabet, they've taken the first step toward literacy, vocabulary, language development, and more. With a combination of enriching alphabet learning materials and enough consistent practice, any child will be on their way to confidently know the alphabet. 
Learning Without Tears seeks to help families, educators, and children get prepared for learning with innovative educational materials and professional resources. We want every child to be set up for success through each step of their learning journey, with engaging and worthwhile materials for K-5 students. Regardless of whether the child is learning in a traditional classroom or at home, Learning Without Tears provides access to proven curricula, industry insight, and enriching products that help make teaching and learning the alphabet a fun experience. 
Source: Piasta, Petscher & Justice, 2012