Wave Your Hands for 5 Senses Activities
Megan Parker
October 8, 2019
0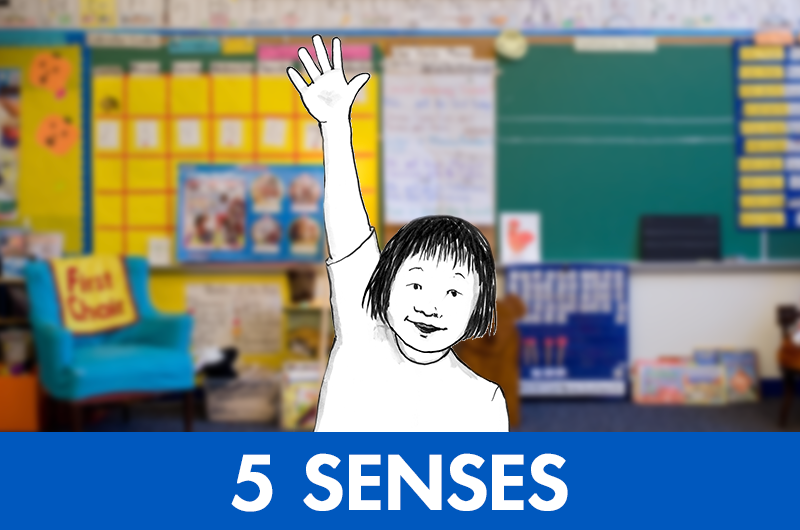 Why it is important for preschoolers to engage in five senses activities? Not only does engaging preschoolers in see, smell, taste, hear, and touch activities teach them about their five senses, it also enriches literacy skills building. In other words, it makes learning fun and dynamic! Here are a few ways to diversify your teaching to incorporate all five sense in your literacy lessons:
Touch – When it comes to engaging the tactile sense, the options are nearly endless! Fill up a fish tank with water and have your students throw some floating letters in to make "Alphabet Soup." Or, try our A-B-C and 1-2-3 Touch & Flip Cards® for a tactile experience learning letters through finger tracing!
Taste – For a quick activity, make sheets of Jello ahead of time and have kids cut out letters with cookie cutters. Make sure you have children spell out their name before they gobble them up!
See – Check out the letter formation videos in the Integrated Print and Digital Solution to give children exciting visual cues for forming their letters.
Hear – Check out our music albums! "Where Do You Start Your Letters?" and the "Alphabet Song" are just a couple of the letter-learning tunes that will get your children grooving to the beat while simultaneously building literacy skills.
Smell – Name that letter! Put a variety of fragrant items in individual bags: coffee beans, flowers, soap, etc. Have children smell inside the bag and identify the smell. Ask them what letter these smells begin with! That fresh, tart smell is grass! Grass starts with G! The sweet, fruity smell is a strawberry! Strawberry starts with S!
The key to making it simple to implement five senses activities in your classroom is to make sure you are using multisensory resources. You can even have a Five Senses Week and devote a weekday to each sense. Gather your resources and materials for each sense and use the activities above to create a full-day sensory adventure for each sense. Tactile Tuesday, here you come!
Stay inspired! 
By Megan Parker
Megan Parker received her Bachelor of Science degree in English from Towson University. She has a background in writing for children that includes working in the editorial department at Girls' Life magazine, where she wrote for the print magazine and website. She has versatile experience as a writer, editor, and copywriter, and her writing has been published in magazines and newspapers. When she's not having fun creating imaginative content at Learning Without Tears, she loves to travel the world.