"The Magic C Bunny is here to say it's COOL to write letters the Magic C way!"
This is a line from our Magic C Rap song and inspires students to learn and teachers to teach using the foundational C stroke!
Why is the C stroke so important for writing?
We use the C stroke to begin capitals C, O, G, and Q and lowercase a, d, g, o, and q. These letters are often made incorrectly from the bottom up, which leads to poor efficiency with writing and a challenge for students to write on lines. Therefore, it is of utmost importance we begin these foundational letters with the C stroke to help foster correct start, stroke sequence, and letter orientation. Writing from the top down will also help students write their letters sitting correctly on lines.
Your students will get to know Magic C Bunny from the pages of their student editions. He appears on all of the Magic C letter practice pages to help children learn what we call the "Magic c habit" (starting from the top center to make the c based stroke). When we make Magic C letters, we are consistent with the wording to help build this Magic c habit. For example, all Magic c lowercase letters begin with the same step… "Magic c".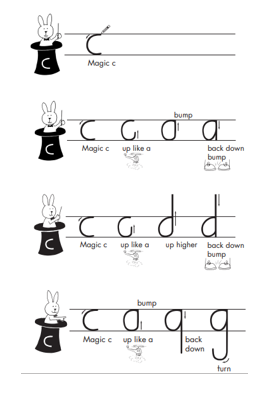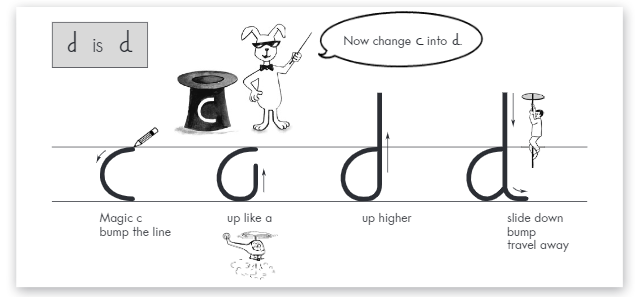 The Magic c stroke is important in cursive, too!
The c stroke is the foundation stroke that begins the first letter in our developmental sequence and connections (c to c),. It's also the first cursive letter group, the Magic c group (c, a, d, and g). In our cursive student editions, notice Magic C Bunny is super "COOL"… he wears sunglasses because cursive is so cool!
How to use Magic C Bunny Puppet: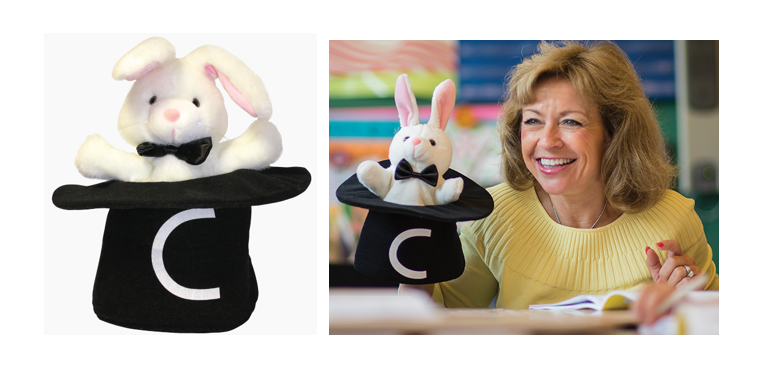 I love to incorporate the Magic C Bunny Puppet into multisensory activities with children at all levels. He can help make your lessons fun, engaging, memorable, and even a little silly! These activities will help your students develop many skills, such as, muscle memory for letter formations, attention, and fine and gross motor skills.
During the Air Writing activity, I hold Magic C Bunny and he moves in the air to make the Magic c letters. Children hold their pencils and air write as they follow Magic C Bunny.
During the Voices activity, Magic C Bunny will "whisper" silly voices in my ear. I use his recommend silly voice (robot, squeaky, opera, etc.) when I air write the letter. Children get a kick out of this! They are excited to have a turn, too! So after I do a few examples, children whisper their silly voice idea into Magic C Bunny's ear. We use the silly voices as we say the step-by-step directions to write Magic C letters in the air.
Magic C Bunny can also be used as visual to follow during the songs on our music albums. For example:
For capital letters: Magic C Song (Get Set for School Sing Along Album)
For lowercase letters: Magic C Rap (Rock, Rap, Tap & Learn Album)
Interested in incorporating technology tools?
Magic C Bunny also appears as a live character in many of the animations on HITT (the Handwriting Interactive Teaching Tool™). These animations help bring letters to life and add another dimension to your handwriting instructional tool box!
Magic C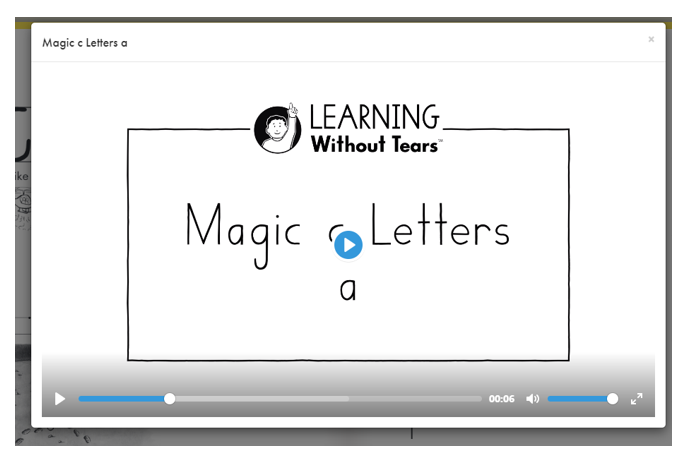 The foundation for six lowercase letters is c!  Watch this video to learn how the Magic C Bunny turns c into o, a, d g, and q. 
As we begin to think ahead to Spring, why not consider bringing a little "spring" of life into your classroom and lessons? Let Magic C Bunny be your teaching assistant to help you lead fun and engaging lessons to assist your students in solidifying the Magic c habit!