Celebrating Teachers!
Megan Parker
May 7, 2018
0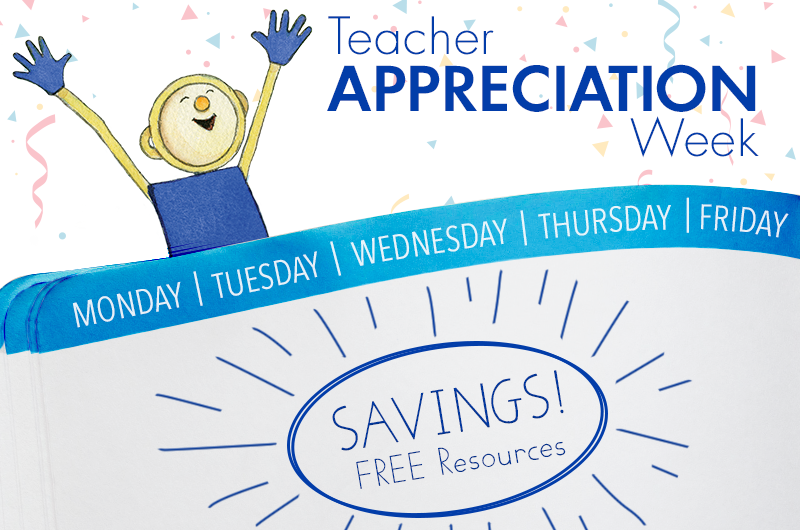 Teacher Appreciation Day is May 8, but at Learning Without Tears, we're celebrating all week long! We love and appreciate all of our educators, so we're sharing some of our products and free materials that are designed to make teaching (and life!) easier for you.
Teacher Appreciation Day Savings: 20% Off!
Get ready, set, write! This exclusive kit is packed with all the essentials you need to implement effective, multisensory handwriting instruction in your classroom. Perfect for diverse learning styles, it includes Slate Chalkboard, Little Chalk Bits, and more.
Instead of spending hours scouring the internet for downloads, just check out our free resources! We have heaps of free resources to make readiness, handwriting, and keyboarding instruction easier for you to implement. Whether you're looking for a demo of Keyboarding Without Tears or The Screener of Handwriting Proficiency , our free infographics, downloads, booklets, and sample lesson plans are available to you in one convenient location!
We understand how hard teachers work each day to transform the lives of children. From grading assignments on the weekends to spending after-school hours fostering strong school-to-home connections with parents, we salute you! In celebration of all your hard work, we're offering $50 off any in-person workshop with promo code TAWS2018. Thank you for being a part of the Learning Without Tears family!
Be the best teacher you can be! Our free spring webinar series features engaging, multisensory solutions for kindergarten readiness and K–5 handwriting instruction. From getting your essential handwriting questions answered to learning how to incorporate music in the classroom, these webinars are the perfect burst of training to get your teaching ready for spring.
Share Your Teaching Videos With Us!
Calling all teachers! You might have heard about the Integrated Print and Digital Solution, our NEW digital teaching platform for teaching handwriting with our student editions to Transitional K–4 students. We think your unique ability to help young learners master handwriting would be a perfect addition to the Integrated Print and Digital Solution's live teaching video library.
Show us what you've got! To participate in Handwriting Without Tears Lessons in Action, please create and send us a 30-second to two-minute video of you teaching a HandwritingWithout Tears lesson in your PreK–5 classrooms.
 If your video is chosen, we'll send you:
·        Six licenses of Integrated Print and Digital Solution (one for each grade level):
             - One license for you and your classroom or practice
             -  Five licenses to share with your colleagues
·       $100.00 coupon code to be used toward Learning Without Tears products (if your video is chosen)
By

Megan Parker
Megan Parker received her Bachelor of Science degree in English from Towson University. She has a background in writing for children that includes working in the editorial department at Girls' Life magazine, where she wrote for the print magazine and website. She has versatile experience as a writer, editor, and copywriter, and her writing has been published in magazines and newspapers. When she's not having fun creating imaginative content at Learning Without Tears, she loves to travel the world.