4 Pre-K Post-Assessment Implementation Tools

Monet Stevens
October 14, 2019
0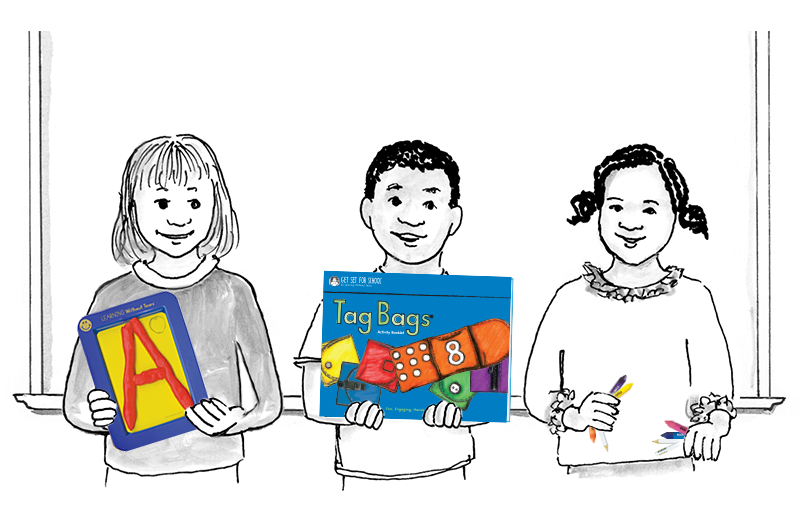 Fall is in full swing and you know your Pre-K students much better now than you did a month ago. You're starting to figure out what they love and what doesn't keep them engaged, and where they excel and where they need a little extra practice. Now it's time to integrate this understanding into your lessons and tailor your teaching strategy accordingly.

Here are four ways you can use your current learning materials to meet newly discovered student needs:
 
1. Activity Booklets
Activity Booklets provide additional ideas on how to use the tools you already have in your classroom. Many tools such as Tag Bags® and A-B-C Touch & Flip Cards® can be used in a variety of ways to both keep lessons fresh and meet the needs of a diversity of learning styles. Download our free activity booklets to begin implementing new strategies in your Pre-K classroom today.
2. Small Tools
If you recently administered Pre-K Assessments, one of the areas you tested probably centered around pre-writing. This is an evaluation of students' preparedness to begin writing for elementary school. Many remediation strategies involve utilizing little tools made especially for small hands, such as FLIP Crayons®, Little Chalk Bits, and Pencils for Little Hands, which help develop good grip and strong handedness.
3. Music
Music is another enjoyable strategy that appeals to all learning styles. Often, songs correspond to specific lessons and set out to teach specific skills. You can find fun, educational and developmentally-friendly music that targets areas where students need the most assistance to aid your lessons. 
4. Hands-On Letter Formation Activities
Before we break out the pencils and paper, we must give students a strong foundation. That means making sure they understand the process of basic letter formation. Hands-on letter formation activities with the Wood Pieces, Roll-A-Dough Letters®, and Stamp and See Screen® not only build fine motor skills, but teach students the direction and order in which letters should be formed.
Be sure to take these ideas back to your preschoolers to have a fall full of fun, foundational learning.

By Monet Stevens
Monet A. Stevens is a graduate student at Georgetown University. She has interned with several organizations across the Greater Baltimore and Washington D.C. Metropolitan area including the Smithsonian and the Surety and Fidelity Association of America. Monet is passionate about strengthening communities and empowering individuals through mass communication. She recently graduated from Towson University and moved back to her hometown near Washington, D.C. where she hopes to make a positive impact.