Music is one of the most powerful gifts in the universe.
It has the power to make us feel.
It can calm and relax us.
It can make us happy or sad.
Music can inspire, encourage, and unite us.
It can get us through challenging times.
And it has the ability to take us back in time to a memory.
Listening, singing, and dancing to music brings us joy.
Throughout this pandemic, amateur and famous musicians have shared their live music via social media to entertain us. DJs have hosted virtual dance parties that have gotten us up and moving in our living rooms. This is an awesome time to use music in your virtual classroom or in your home to get the "feel goods" and to help teach children important concepts.
Music and movement are particularly powerful for the cognitive, social-emotional, and sensory motor development of preschoolers.
Here are 12 preschool music activities to help your preschoolers have fun as they learn important foundational skills.
Music is a great way to connect school and home.
Teachers, be sure to share lyrics with families so they can reinforce skills at home. Music is a powerful teaching tool for preschoolers. Use music to help foster a love of learning as children develop cognitive, social-emotional, sensory motor, and school readiness skills. Have fun incorporating the songs and activities from all the Learning Without Tears music albums.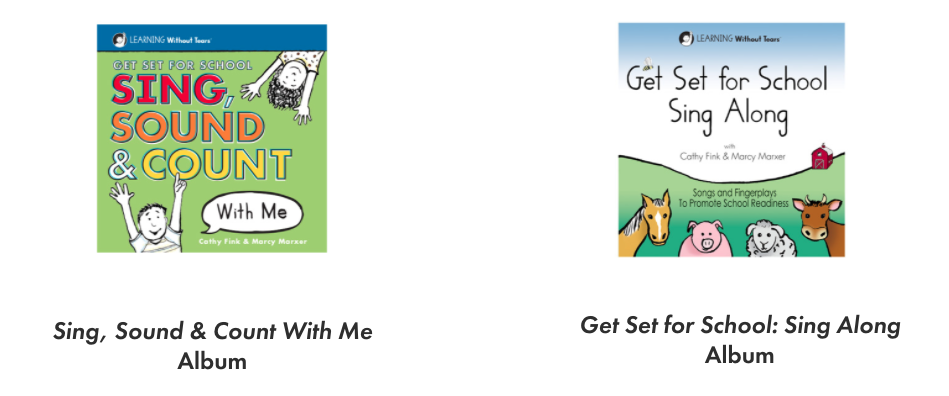 Jump Start Your Preschool Lesson Plans with our Music!
Learning Without Tears understands the power of music. We've incorporated music and movement into the core of our readiness and writing, printing, cursive, keyboarding, literacy, and math curriculum materials.

But we don't just sing and move for the sake of singing and moving, we've carefully designed our music and activities to reinforce or teach a variety of skills. Our music spans an array of genres from country and hip-hop to folk and rock. In this free webinar, learn five rockin' music strategies to use with your class.
 
A—Z for Mat Man and Me
Seamlessly bring the ABCs to life while building foundational literacy skills with our new letter book series. Each of our illustrated letter books introduces a letter of the alphabet and emphasizes their associated sound through captivating, visual stories. The engaging stories in each book capture children's imaginations and expose them to social-emotional skills and diverse cultures.

You can Learn More → .