Boosting Children's Vocabulary To Improve Communication Skills & Help Support Student Success

Katrina Capola
June 16, 2020
0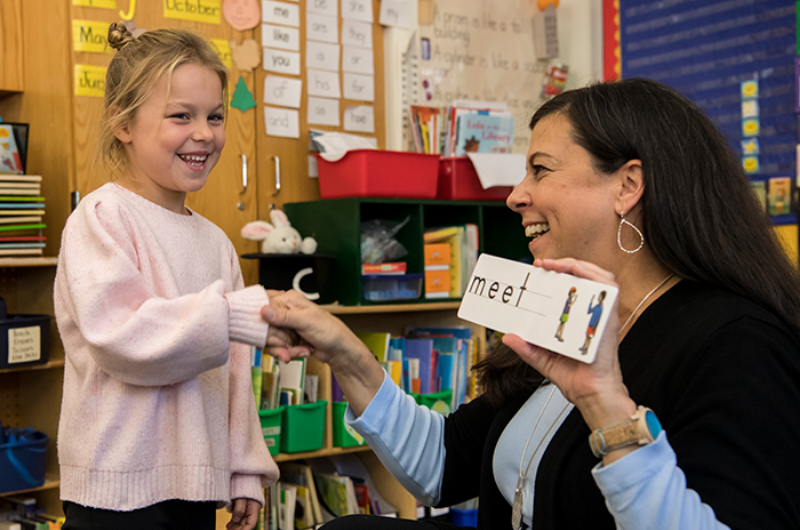 What is vocabulary and why is it important for children?
Vocabulary refers to all the language and words that an individual can understand. Vocabulary words are used in everyday communications and focus on 4 areas: listening, speaking, reading, and writing.  
Children begin learning words at an early age. As they develop, they tend to learn the meanings of new words indirectly, through exposure to oral language and through their daily experiences. Helping children increase the number of words they can understand will help improve their ability to become more effective communicators. Research also shows that increasing vocabulary knowledge will help children learn and process new information, ultimately resulting in better success in school.
You can find many suggestions online for age-appropriate words to introduce and expose your child to, as well as vocabulary lists based on grade-level and subject area. The Get Set for School curriculum also includes a list of vocabulary within each of its Pre-K lessons, giving you additional recommendations for supporting your child at home.
How can parents provide vocabulary support at home?
Engage in several conversations throughout the day about various topics, events, ideas, or stories.  
Emphasize the use of feeling words, names of objects, words that describe and words that show action.
Allow opportunities to practice asking and answering questions to help develop an understanding of these two different skills.
Read together and discuss the meaning of new or unfamiliar words in the story.
Provide time for independent reading and exposure to many books.
Take turns telling jokes or riddles and playing word games.
Sort and classify objects or pictures into groups, and talk about similarities and differences.
Encourage dramatic play and storytelling.
Label words around the house.
Create a word wall or bulletin board to hang-up new words learned.
Make flash cards with new vocabulary.
Create a Vocabulary Dictionary that includes new words learned: Take a stack of blank paper and fold it in half to create a book, then at the top of each page, write the new word learned and a synonym or word that means the same, and finally allow the child to draw a picture below to represent its meaning.
Play Vocabulary Charades giving the child an opportunity to "act-out" the meaning of the word and allow the child to make sounds/noises to help remember the meaning.
 
More resources for boosting children's vocabulary
Check out these additional sources for more great ideas to support children's vocabulary development.

By Katrina Capola
Katrina Capola has over 18 years of experience in the field of education, which spans from teaching in a traditional classroom setting to online virtual instruction. During her career, Katrina has been a classroom teacher for Kindergarten, 1st, 2nd & 3rd grades, as well as a reading and math interventionist, providing targeted instruction to diverse learners, utilizing the Response-to-Intervention framework. Katrina is a proud graduate of Michigan State University, where she earned her bachelor's degree in Elementary Education. She also received a Master of Arts Degree in Special Education from Concordia University. Katrina holds a professional teaching license in the states of Illinois and Michigan, as well as a Learning Behavior Specialist Endorsement (LBS1). During her free time, she enjoys gardening, crafting, writing, snowboarding and spending time with family and friends.