Building Writers Program
Structured Practice to Build Core Writing Skills in Grade K–5
Kindergarten
Narrative: Prepares students to write personal narratives and stories in a logical sequence
Information: Builds students vocabulary to make them more effective non-fiction writers
Opinion: Supports students as they form opinions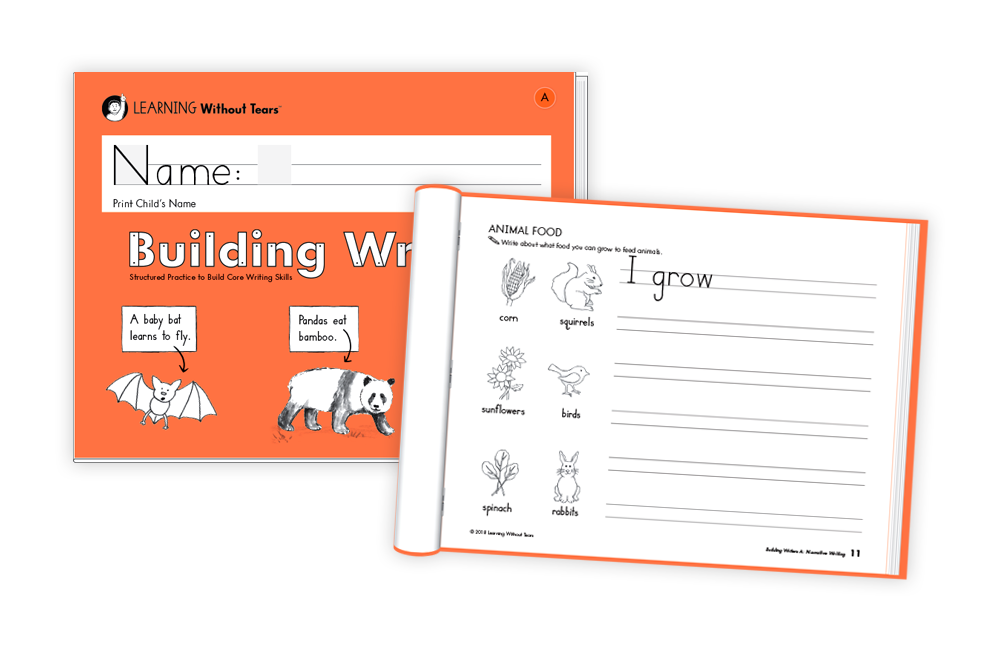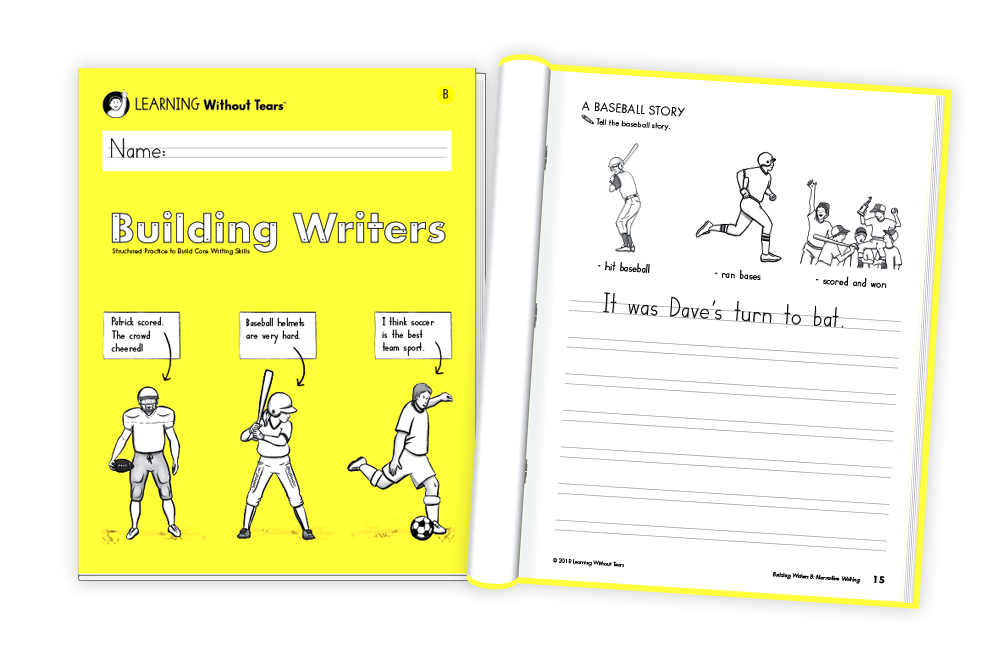 First Grade
Narrative: Students will write a story in order with details and an ending
Information: Lessons are scaffolded to write topic sentences, facts, and an ending
Opinion: Students write their opinion, reasons that support their opinion, and a conclusion
Second Grade
Narrative: Students will write stories in logical order with detail, action, and emotion, and provide an ending/closure
Information: Write an introduction about their topic, facts to explain their topic, and a conclusion
Opinion: Students will learn to clearly state their opinion in a topic sentence, provide reasons to support their opinion, and write a conclusion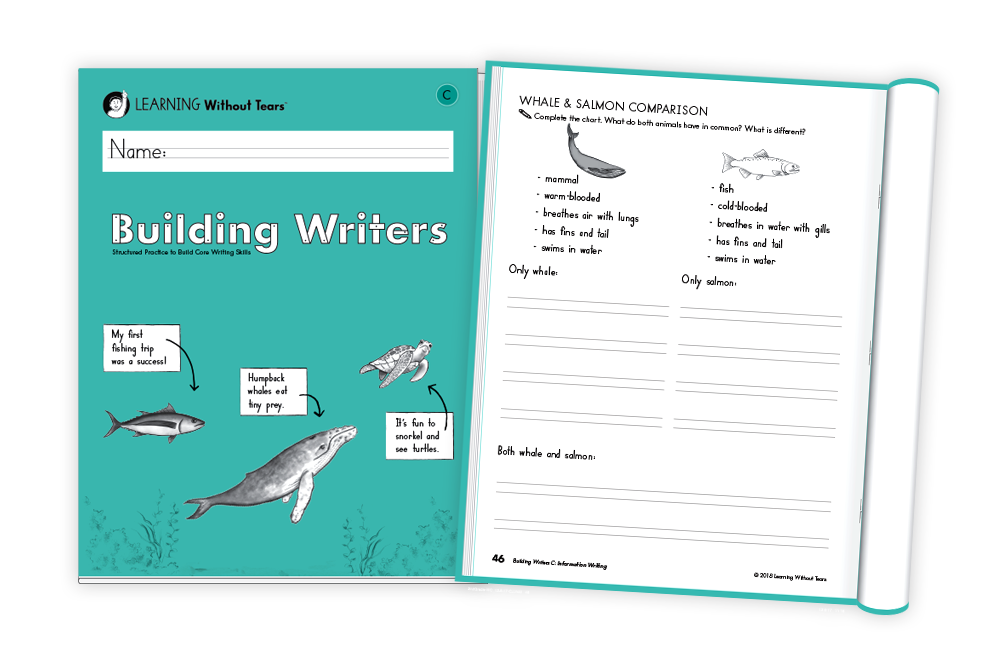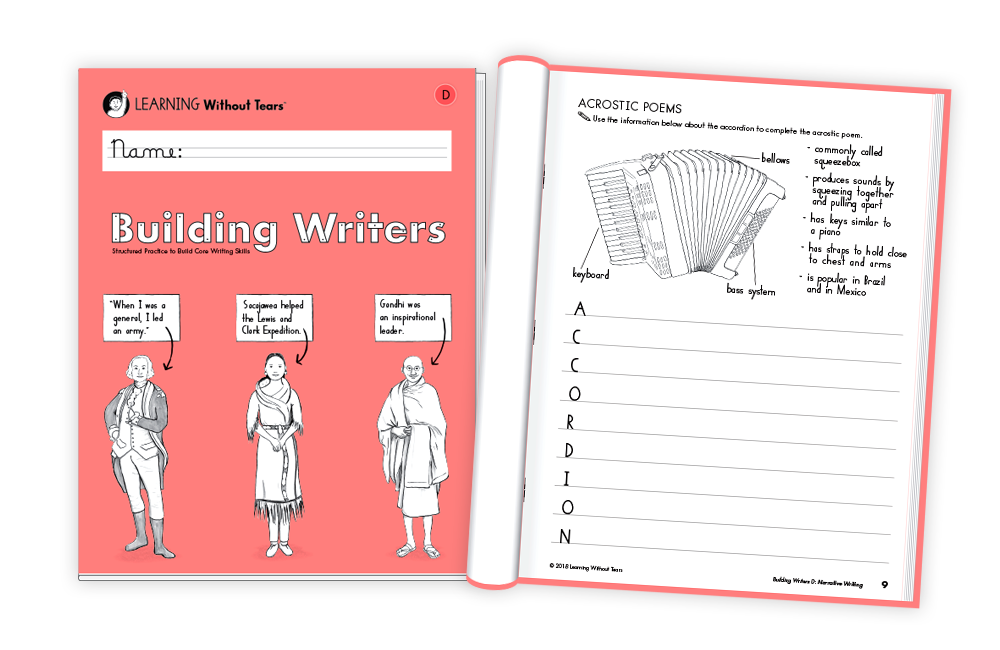 Third Grade
Narrative: Students introduce a narrator and characters, write about an event and an organized sequence, using dialogue description and detail, and provide a sense of closure
Information: Write to share and explain information by introducing a topic. Information will include facts, definitions, and details about the topic, and provide a concluding sentence or paragraph
Opinion: Students write an introduction that clearly states an opinion, provide clear and organized and supporting reasons for the opinion, and write a concluding sentence or paragraph
Fourth Grade
Narrative: Students will write a story with a clear sequence of events, introduce a narrator and characters, enhance the story with dialogue and description to show how characters respond to a situations, use a variety of transitional words and phrases to show the order of events
Information: Practice clearly introducing a topic, organizing their information into paragraphs and sections, include facts, definitions, and details about their topic, they will use topic-specific vocabulary, they will connect their ideas with linking words and phrases, and write a conclusion
Opinion: Clearly state their opinion and introduction, organize their supporting reasons, include facts and details in their reasons, and clearly connect their opinions and reasons with linking words, and write a concluding sentence or paragraph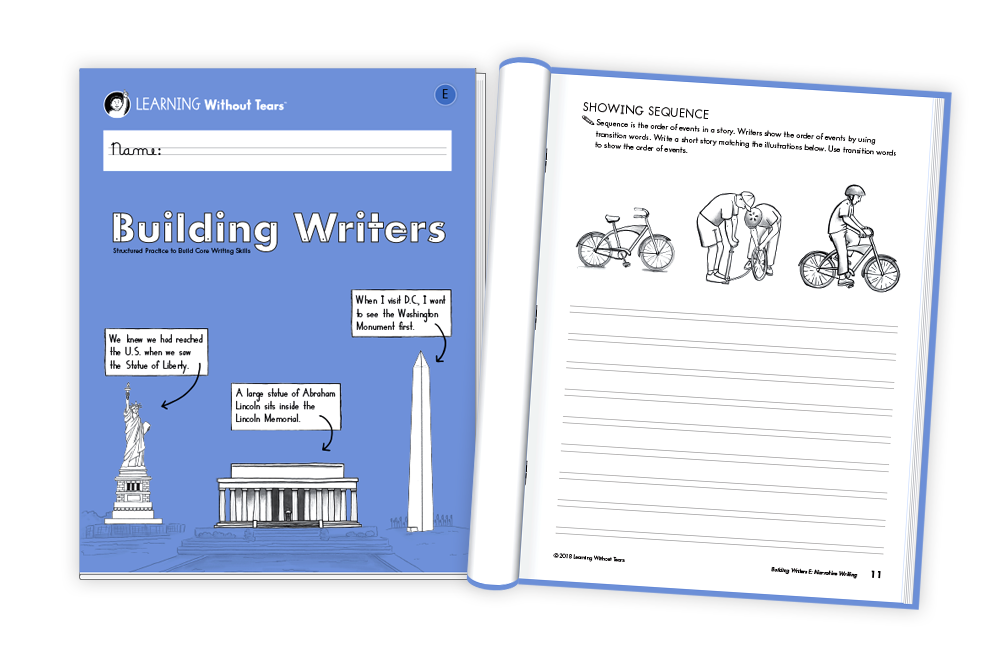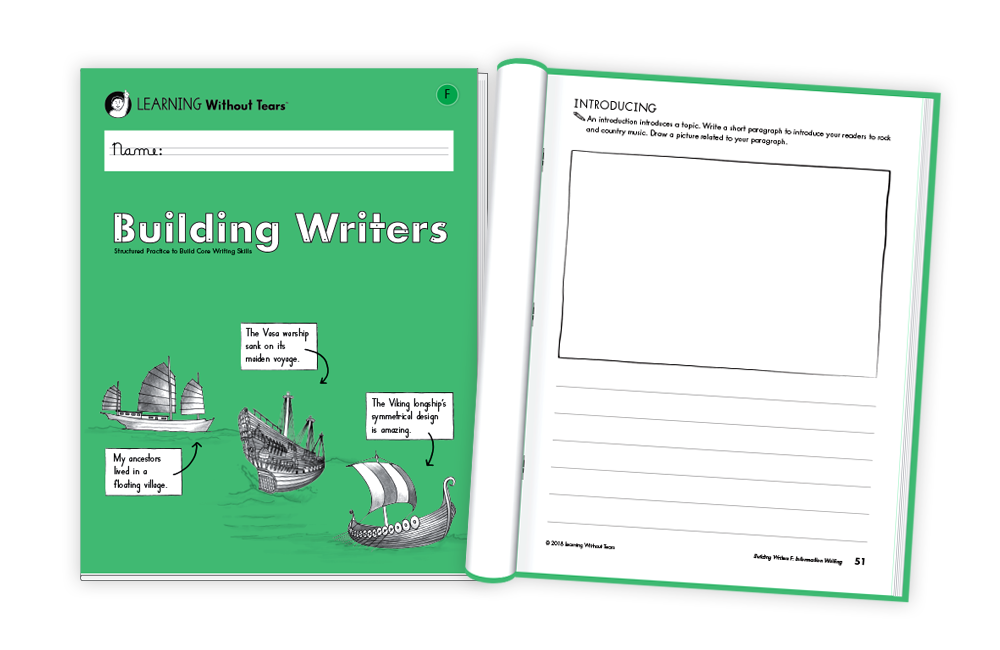 Fifth Grade
Narrative: Students will write a story with a clear sequence of events, they will introduce a narrator and characters, they will include dialogue and description to show how characters respond in different situations, they will use details to effectively communicate the experiences of characters and events, they will use a variety of words and phrases to show the order of events, and write a conclusion
Information: Clearly introduce the topic, organize related information into logical paragraphs or sections, write facts definitions, and details about the topic, use quotations and concrete details when necessary to further develop the topic, include topic-specific vocabulary, connect ideas with linking words and phrases, and write a conclusion
Opinion: Write an introduction that clearly states an opinion, write ideas and supporting reasons in an organized structure, write supporting reasons in logical order with facts and details, connect an opinion and supporting reason with linking words, and write a concluding sentence or paragraph
Explore Teacher Resources!
Download a grade level teacher's guide to further explore the curriculum.
Download Now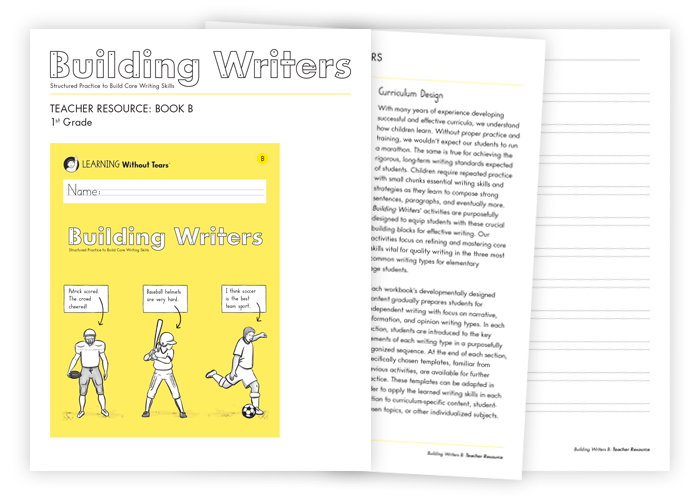 Structured practice to build core writing skills. Developmental approach to writing

Uses Handwriting Without Tears intuitive design and double lines for successful writing outcomes

Reduces teacher prep time spent searching for effective practice materials

Customizable writing templates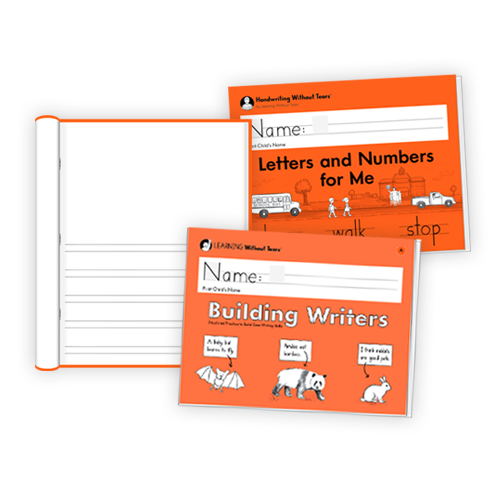 Bundle Building Writers with Handwriting Workbooks: See Success, Save Money!
Bundle a handwriting workbook with a journal and a NEW Building Writers workbook for consistent writing instruction and cost savings!