Top 5 Ways to Get Cash for Your Class

Kathryn Fox
August 6, 2018
0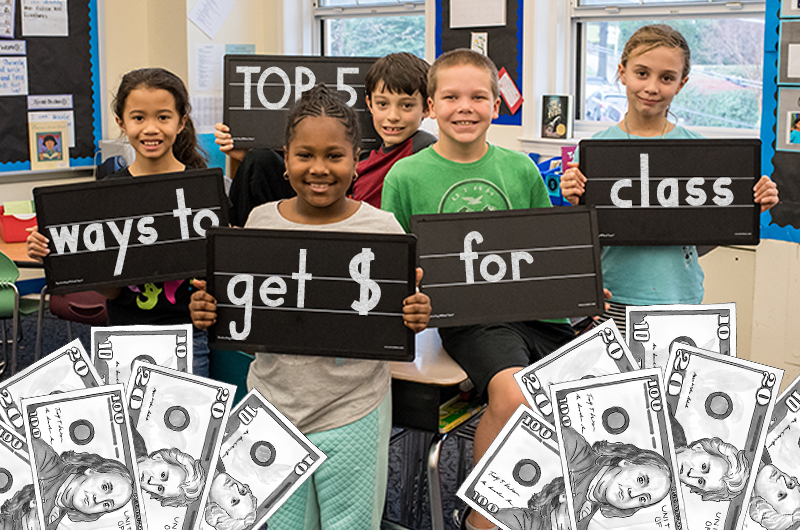 What better way is there to head back to school than with some extra cash for supplies, activities, and décor in your classroom?
As we gear up for our own exciting back to school contest, we're sharing our top five ways to get cash for your classroom to make this school year your best yet:
1. Be on the Lookout for Teacher Deals
Before you head shopping, scour the internet for teacher deals! Whether you're searching for pencils, paper, markers, or more, many stores offer educators discounts like Target, A.C. Moore, or Discount School Supply®. 
2. Set Up a GoFundMe® for Supplies, Trips, and More
Start a GoFundMe campaign for your classroom to raise extra funds for technology, classroom supplies, books, trips, and activities. Join the teachers, students, and parents who have started various GoFundMe campaigns with great success to fund opportunities traditional funding doesn't! Get funded for back to school.
3. Enter Our Back to School Class Cash Contest
Our Back to School Class Cash Contest is an exciting opportunity for you to win $100 of Learning Without Tears training and materials.* Share your best back to school tip about setting up your classroom, helping students struggling with handwriting, and establishing strong school-to-home connections with us for a chance to win! Enter now. 
4. Go for Grants
Although applying for a grant can seem like a daunting task, grants are a great way for teachers to meet and exceed the needs of their students. If you are struggling to get resources in your classroom, or trying to rebuild your classroom, here are a list of grants, recently updated, to apply for.   
5. Get Crafty
Don't fret about extra dollars needed for supplies and do it yourself! With seemingly endless inspiration on our Pinterest, Instagram, and Facebook, check out how our teachers get crafty with Get Set for School® and Handwriting Without Tears® lessons featuring DIY Mat Man® activities and more!
With the school bells about to ring signaling the first day of school, we wish you and your students a happy and successful school year!  
*This sweepstakes gives you the one time opportunity to win a $100 Learning Without Tears Gift Certificate. To become eligible, you must register and submit teaching tips through the designated form between July 11, 2018 and September 28, 2018. Winners will be selected in a random drawing from among eligible entries under the supervision of Learning Without Tears. Winners will be notified via email within five (5) business days following the winner selection and hove their names posted on lwtears.com/classcashwinners. By submitting a teaching tip, you grant Learning Without Tears a perpetual, irrevocable license to reuse the tip in any media without compensation

By Kathryn Fox
Kathryn received her Bachelor of Arts in Writing, Rhetoric, and Technical Communication from James Madison University. She is an experienced editor, copywriter, and technical writer and has worked for the government and in the IT, music, and telecommunications industries. She is currently a writer and editor for Learning Without Tears and loves providing content that empowers young writers and teachers. Kathryn lives in Arlington, Virginia with her best friends.