Jam-Pack July with Rest, Relaxation, and Back to School Preparation!
Megan Parker
July 23, 2018
0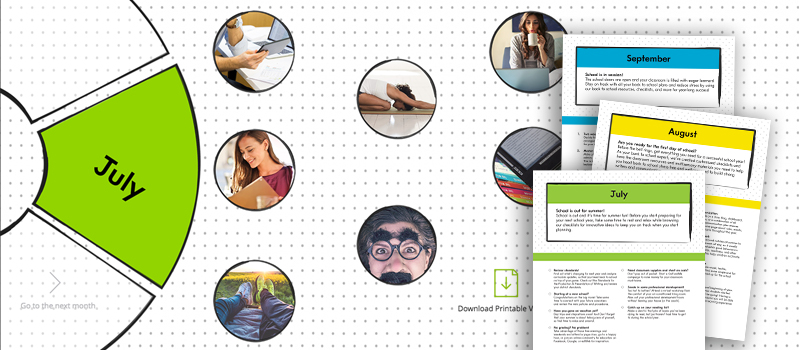 Summer is in full swing! But, before you line your lesson plans, pencils, and pupils into a row, take some time to rest, relax, and reflect. Check out some of our ideas to make this July a restful, but productive time during your summer break and explore our Interactive Planner for everything you need to successfully head back to school.
Rest and Relax
After a busy and stressful year, getting rest is especially important to ensure that you're ready to take on the exciting school year ahead. Get away by taking a much-deserved vacation—or plan a staycation!
Reenergize Your Strategies
By reflecting on what worked best for you and your students in the classroom last year, you can head into the new school year knowing exactly what you want to repeat, change, or add to your lessons. Attend a workshop to get the latest strategies, innovative materials, and leading resources for inspiration!
Reach Out and Connect
With most schools out for the summer in July, you're bound to come across teachers just like you who are relaxing and reorganizing for next school year. Join a professional educational group or community, such as Crayons, Pencils, and Keyboards, to connect with other educators and get ideas for your classroom.
Although summer break won't last forever, we hope your July is restful and productive, so you head back to school in September or August ready to kick start you and your students' success! In the meantime, don't forget to check out our Interactive Planner. It has ready-made plans and helpful back-to-school resources to ensure you successfully transition from summer to fall!
By Megan Parker
Megan Parker received her Bachelor of Science degree in English from Towson University. She has a background in writing for children that includes working in the editorial department at Girls' Life magazine, where she wrote for the print magazine and website. She has versatile experience as a writer, editor, and copywriter, and her writing has been published in magazines and newspapers. When she's not having fun creating imaginative content at Learning Without Tears, she loves to travel the world.