Happy School Principals' Day!

Kathryn Fox
May 1, 2018
0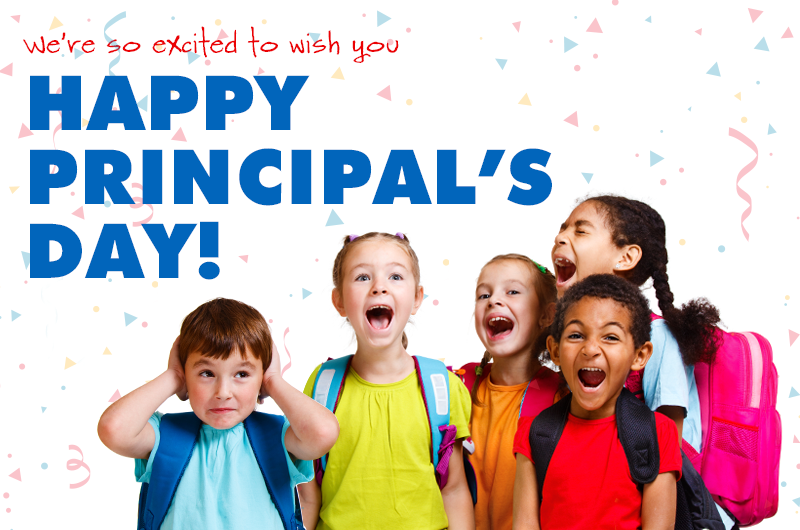 School Principals' Day is a special time to celebrate, appreciate, and thank school principals for all their hard work leading school communities and creating an environment where young learners can grow and succeed in all classrooms and subjects.
Founded by Janet Dellaria of Trout Creek, Michigan, School Principals' Day is celebrated on May 1 and was started as a special way to recognize all the dedicated leaders in schools from elementary to high school. At Learning Without Tears, we love celebrating and recognizing our partners in building confident communicators from Pre-K through fifth grade.
School principals have an immense responsibility of leading the school community, managing administrative tasks, communicating with families, planning academic calendars, and selecting the right curriculum to help both students and teachers reach goals, standards, and benchmarks. School principals work hard to cultivate productive educational environments, but also value the importance of fun, yet effective learning.  
To celebrate School Principals' Day, we created a list of top five things a curriculum should be to help school principals as they make important decisions and select curriculum.
A curriculum that promotes student and teacher success is:
Research-based and proven
Simple, engaging, and multisensory to appeal to different learning styles and support active participation
Easy to teach and easy to learn
Developmentally appropriate to meet the needs of every learner
FUN, yet effective with cross-curricular connections
Happy School Principals' Day from Learning Without Tears!

By

Kathryn Fox
Kathryn received her Bachelor of Arts in Writing, Rhetoric, and Technical Communication from James Madison University. She is an experienced editor, copywriter, and technical writer and has worked for the government and in the IT, music, and telecommunications industries. She is currently a writer and editor for Learning Without Tears and loves providing content that empowers young writers and teachers. Kathryn lives in Arlington, Virginia with her best friends.