Ask an OT is a monthly series answering questions that we receive from educators, parents, and OTs, like you! This month we're addressing ways to keep learning fun that don't use technology, ideas to increase sensory stimulation with social distancing and COVID restrictions, and why hand-over-hand prompting for teaching is still needed along with other helpful teaching strategies for in-person teaching during this pandemic. 
Have your own questions for our OTs? Send us a message on Facebook or Instagram! 
---
Watch the full Ask an OT episode here and continue reading below for more advice on this month's topics. 
 
#1 How can I ensure learning from home stays fun without using technology as often?
Learning from home and virtual learning is made easier with today's technology and can be very engaging when using the right kind of digital teaching tools. Be sure to check out LWT's Digital Teaching Tools for PreK and K-5th.
 
BUT too much online learning and teaching can be hard on our eyes, it can cause increased stress levels, and it can be limiting when it comes to using our hands for learning. Children need a good balance to learn effectively with lots of hands-on learning. Like our Wet, Dry, Try for print and cursive, check it out! So let's explore ways to keep the learning fun and engaging that do not require the child to use technology quite as often.

The first thing I think about when I think of fun is definitely children! They can make a game out of anything….so we should follow their lead.
 
Make Dice. You can create your own letter or number dice using printable templates like these (insert an image of dice and template). Children get to roll the dice to see what letter or number will be taught, practiced, or reviewed. Remember to only include letters they are currently learning or have already learned. You can extend this to word writing practice or topics for sentences. The roll of the dice will determine the letter the word or topic they are writing will begin with.



BONUS -Make sure you check out this link to get a free download of a printable dice and practice sheets for HWT's Frog Jump Mystery Letter Game and watch the fun video of Emily Knapton's class playing with the dice on Instagram.
Try a Spinner. Spinners make learning and practicing handwriting more fun. Find a printable spinner or adapt a game spinner for this activity. Spin for which activity will be done and which letter or number. In this example, we will be using the HWT Slate with Wet, Dry, Try for the letter N. 

Go on a Scavenger Hunt or Nature Walk. You can make writing letters, words, sentences, and even paragraphs more fun by making a connection between a physical activity and handwriting. Make a mystery envelope that will contain a special activity that allows children to move, look, touch, and even smell or taste to inspire what they write that day.
Play a Game. There are so many great games like Simon Says, Follow the Leader and Tic-Tac-Toe. Who said Tic-Tac-Toe can only be played with Xs and Os? Why can't we play it using different letters and even numbers? Be sure to watch the video for how to play Tic-Tac-Toe to teach and practice good formation skills.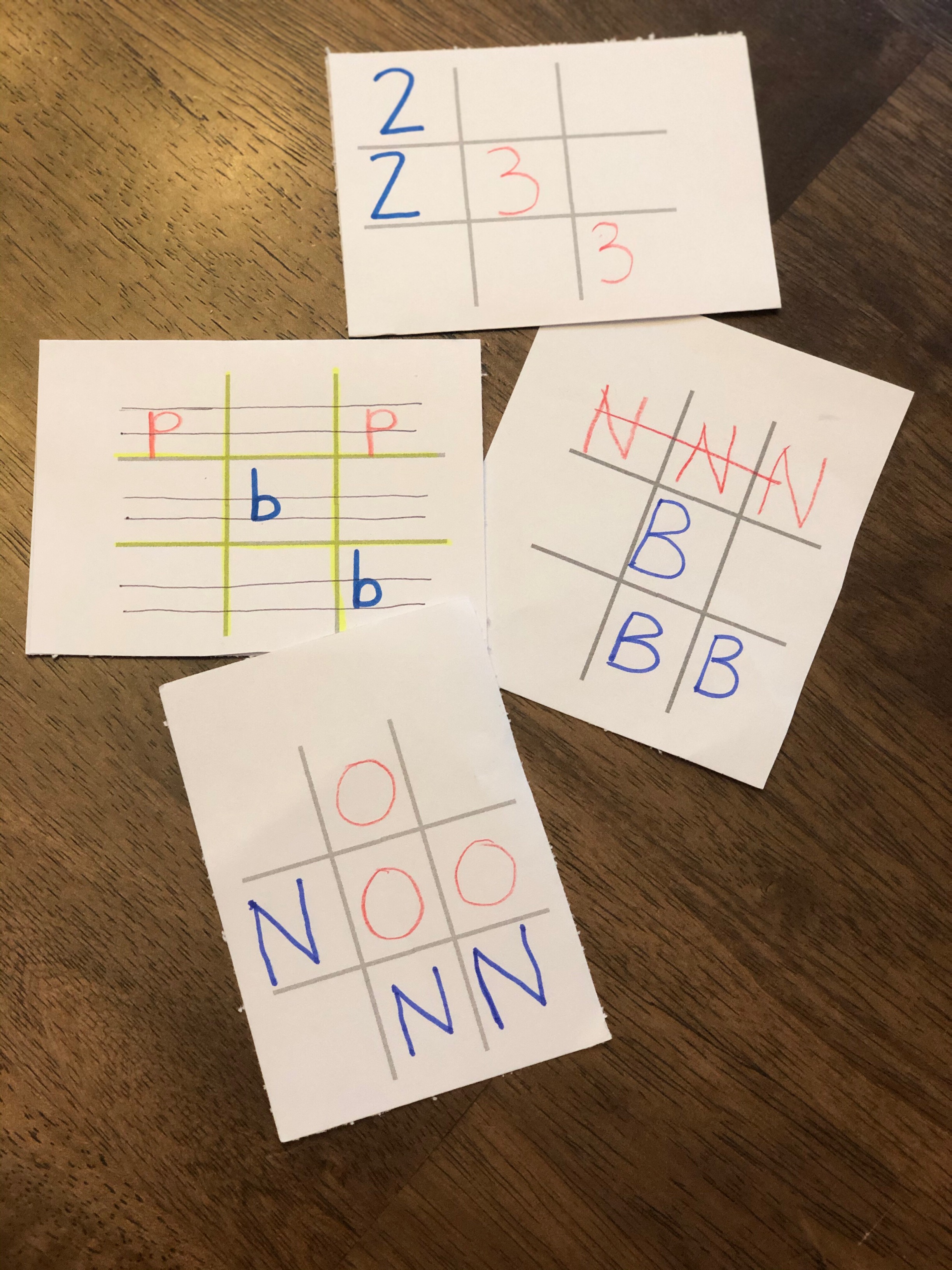 #2 How can teachers (and parents) help kids get sensory stimulation in restrictive learning environments?
For in-person school right now, students must endure a lot more sitting in place than normal. That means no gathering for circle time, maybe less playground time, and more restrictive hindrances to stimulating learning. Movement is just one way to get sensory stimulation, and it's key to keeping us alert, ready to learn, and attentive. Kids need to move. They need to wiggle, dance, and touch. It helps them learn about their bodies, spatial relationships, new concepts, and how to control their bodies. It can also be a great outlet during stressful times. Movement can be easily integrated into any learning environment. Here are some ideas to inspire you.
Play Make a Move. Use this tactic during any subject when an answer/choice needs to be made. For example—"If you think the answer is 5, stand up beside your desk. If you think the answer is 3, touch your toes." You can do this with children of all ages and make the movement more complex based on their abilities. You can also increase the sensory input by making weighted bags of rice or beans to use during their Make a Move. Be sure to seal your bags with plenty of duct tape and then change your instructions to "Put your bag on the floor if…." The possibilities are endless!
Implement More Brain Breaks. Get up and move in their designated area to music or videos. Check out the fun and engaging music and videos in our Pre-K Interactive Teaching Tool (PreKITT) and our Interactive Digital Teaching Tools (IDTT) for print and cursive. A few of my favorites LWT songs to use as a Brain Breaks are Where Do you Start Your Letters, I am a Fine Musician, and Spiders Love to Party. Children can move to the rhyme and imitate movements from the song.
Do the Total Posture Stomp. Use this technique whenever you feel like you need to pump up the volume of sensory input for your students. Students follow a teacher (or classmate) in stomping their feet, waving their arms in the air, tapping on their knees, and even shoulder stretches while making noise to a rhythm like "Nah-Nah-Nah-Nah" or music. And the best part, they never have to leave their seat, but everyone gets the sensory input they need. 
Create a Motor Skills Course. These can be easily constructed in your room or hallway. Students can be instructed to do certain movements in zones with social distancing. Jump in the red zone, walk on their toes in the blue zone, commando crawl, or bear walk in the brown zone. You can change up the movements or challenge your students throughout the year.
Besides movement, think of other ways to increase sensory input in your day. Create individual sensory bins with rice or beans and have the students bring small items from home (pom-poms, paperclips, beads, small toys) to put in their personal sensory bin to touch, sort, and find. They could use these sensory bins to find items with certain properties (a color, soft/hard, rough/smooth), use them as counters during math, and as inspiration for writing. And don't forget about the senses of smell and hearing. I'm sure you can come up with fun lessons that incorporate listening and smelling too.
#3 What is the best way to assist kids with learning correct grasp, prewriting strokes, or scissor activities without touching and doing the activity hand over hand during COVID?
New restrictions that your school may have in place for learning during the pandemic can be challenging when you need to touch and guide your student's hands for learning. There simply is no replacement for hand over hand or tactile guidance. Wearing gloves and implementing good hand washing/sanitation practices before and after using this type of instructional strategy are important. Hand over hand guidance provides the student with necessary tactile and proprioceptive learning for young learners and those with special learning needs. When you use this teaching strategy with your students, be prepared to do it in small groups or during 1:1 teaching, follow the guidelines for your school, and have a hand sanitizing station ready before you move to another student.
 
Some students will pick up correct grip and scissor use by watching you model how to do it leaving fewer children that may need the hand over hand teaching strategy. Other strategies that are effective include breaking the task into smaller, more achievable steps and then modeling those to the student. In the OT world, we call this Task Analysis. Let me give you an example. Using scissors requires a lot of different skills that have to occur at the same time.

Break it down into smaller, achievable steps such as learning how to hold scissors correctly, learning how to open and close the blades, learning to snip paper, and finally learning how to cut along a line.
For students that have trouble, marking their scissors with colorful tape to help them remember where their thumb goes.
If they struggle with opening and closing the blades, practice with tong activities or cheater chopsticks. You can make your own, just check out DIY videos online. 

For crayon or pencil grip, LWT has you covered with music and scaffolded practice to teach these skills in smaller, achievable steps.
For crayon and pencil grip, teach correct finger placement with music and video modeling.
You could create your own larger than life video modeling using a document camera and have your students imitate what they see. This will work for scissors and pencil grip.
Add in practice with activities that require picking up the crayon or pencil, moving it around on the paper with a scribble or stroke, and dropping it before picking it back up again to repeat. This process builds skills and helps young children master correct finger placement for correct grip. At LWT, we call this Aim and Scribble and Pencil Pick Ups. We encourage this repeated practice before moving on to more complex use of their crayons and pencils.
Finally, give your students the time they need in each of the smaller, more manageable steps before moving on and combining them into more complex skills.
---